UTSA architecture lecture series presents visiting professor Javier Sanchez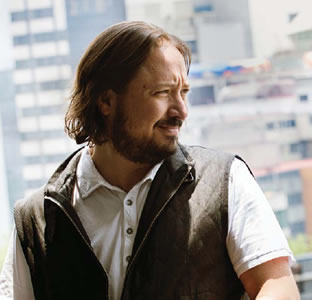 Share this Story
(March 27, 2013) -- The UTSA College of Architecture Spring 2013 Lecture Series continues with internationally renowned architect Javier Sánchez, Visiting Professor of Architectural Design in the UTSA graduate architecture program. His lecture, "Building the City: Architectural Insertions in Mexico City," is based on his work and will be presented at 5:30 p.m., Wednesday, March 27 in the Frio Street Building Riklin Auditorium (1.406) on the UTSA Downtown Campus. The lecture is free and open to the public.
Sánchez is the founding partner and lead designer of the multidisciplinary Mexico City firm JSa, formerly known as Higuera + Sanchez from 1996 to 2007. He directs a vibrant 75-person firm of young professionals in architecture, real estate, interiors and construction. Their diverse work includes urban design, housing, mixed-use buildings, cultural facilities, museums, university facilities, schools, office buildings, malls, shops, restaurants, hotels, resorts, houses and public spaces in Mexico and Peru, Costa Rica, Panama, China and the United States.
His award-winning built projects have been widely published and include the Torre Amsterdam (2013), The Spanish Cultural Center (2011), 13 de Septiembre Adaptive Reuse Housing (2005) and the Hotel Condesa (2004) projects in Mexico City, as well as El 22 Beach Housing (2006) outside Lima, Peru, among others.
Sánchez graduated as an architect with honors from the Universidad Nacional Autonoma de México (UNAM), received his Master's Degree in Real Estate Development from Columbia University in New York City and recently was selected as an honorary fellow of the American Institute of Architects. His work has been published around the world, has won more than 55 national and international awards, and was recently featured in the 13th Venice Biennale, the leading exhibition for contemporary architecture in the world.
The recent work of his firm will be the subject of a monograph that will appear next year, to be published by Arquine. He has taught at numerous universities including UNAM, Instituto Tecnológico y de Estudios Superiores de Monterrey (ITESM) and the University of Washington, and has lectured on his work in the United States, Latin America and Europe.
As Visiting Professor of Architectural Design in the UTSA College of Architecture, Sánchez leads a studio that examines Colonia Atlampa ("where the water divides in 'nahuatl'"), one of the last remaining underdeveloped portions in the center of Mexico City, which is near the pre-Columbian site of Tlatelolco and the former Buenavista railroad station.
------------------------------
UTSA College of Architecture Spring 2013 Lecture Series
April 4 -- Jean-Paul Viguier, "Modernity and Heritage: Contextual or Pastiche"
April 11 -- Mathew S. McElroy, "How El Paso Developed America's Best Smart Growth Plan"
The COA Lecture Series is free and open to the public. For more information, contact Nicole Chavez at 210-458-3121.