San Saba Hall: Newest addition to UTSA campus housing is now leasing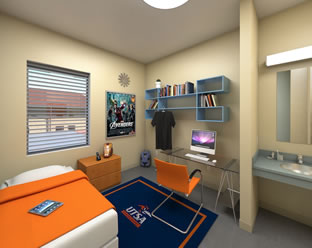 Share this Story
(March 27, 2013) -- The UTSA Office of Housing and Residence Life announces the newest addition to UTSA on-campus housing, San Saba Hall, which will open in fall 2013. Conveniently located next to the Recreation and Wellness Center on the UTSA Main Campus, San Saba Hall consists of 618 residential rooms… and is now leasing to UTSA students.
This new residence hall will provide UTSA students with three new special-interest community options in the south tower:
Engineering Living Learning Community (south, third floor)
Leadership and Service Lifestyle Floor (south, first floor)
Honors College and Terry Scholar Community (north and south, second floor)
>> The Engineering Living Learning Community (ELLC) will house UTSA engineering students. The program will foster a community of scholars, helping them build a commitment to academic excellence in engineering by providing an atmosphere that promotes serious intellectual pursuits and social interaction in both the classroom and the living room.
The residents of this floor also can attend resident tutoring sessions, seminars by engineering professors, home football games in designated block seating, field trips to various engineering locations, peer mentoring and engineering advising once each semester. (Students with 30 credit hours or less would normally go to Freshmen Advising.) The purpose of ELLC is to create a stronger community for incoming and current engineering students, allowing them to increase their chances of success through specialized tutoring, mentoring and networking.
>> UTSA's commitment to leadership and service continues at San Saba Hall in the Leadership and Service Lifestyle floor. Housing and Residence Life (HRL) and the Student Leadership Center (SLC) have partnered to create a unique and dynamic living experience to foster future leaders at UTSA. The program will provide an array of opportunities for students to create social change among their UTSA community and beyond.
Throughout the academic year, students can participate in a variety of activities and events utilizing the components of the SLC mission statement: education, engagement and experience, which will allow students to evolve as globally aware leaders. Additionally, they will align with the mission of HRL by empowering students to think critically, lead purposefully and grow professionally.
>> The Honors College and Terry Scholar Community will allow students to build lasting friendships with other honors students, while enjoying the benefits of studying and socializing together. The community will provide a unique educational experience for academically talented students with a commitment to excellence. This housing option will assist with interdisciplinary seminars that bring together advanced students from diverse disciplines.
-------------------------------
San Saba Hall will feature an open lobby, administrative offices, meeting spaces, and live-in professional staff. Residents will have access to a conference room, computer lab, floor study lounges, laundry facilities and a community kitchen.
The new hall is just minutes away from the University Center with services such as a full-service Frost Bank, the Campus Technology Store with academic pricing and concierge service for Apple and PC hardware and software, the UPS Store with mailbox rentals, and Rios Golden Cut Salons.
Once your errands are done, relax with the UC's many entertainment options. The Roost game room features pool tables, table tennis and a student-selected video game library for PS3, XBOX 360, and Wii. Weekly coffeehouse performances feature live music, open-mic nights and poetry slam artists. UCinema Nights feature blockbuster favorites before they are on DVD, along with free popcorn every Friday and Saturday night. Other regular programs include casino nights, late-night barbecue, and hypnotists or comedians. Learn more at the University Center website.
>> Be one of the first to live in San Saba Hall. For more information, visit UTSA Housing website or call 210-458-6834.
-------------------------------
San Saba Hall amenities
618 beds
Study and TV lounges on each floor
Large lobby/lounge
Two courtyards
Computer lab
Multipurpose room
Community kitchen
Programming activities and events
Utilities included
Free laundry facilities
Basic cable TV
Unlimited building-wide Wi-Fi access
Each residential room has:
Extra-long bed
Desk with chair
Dresser
Personal sink
Shared bathroom