UTSA presents storytelling leadership luncheon for women in engineering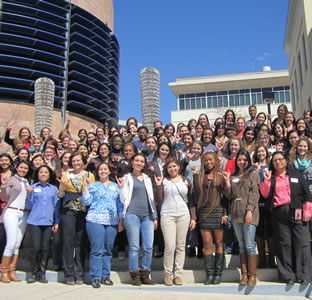 Share this Story
(March 7, 2013) -- The UTSA Student Leadership Center, UTSA College of Engineering and Motorola Solutions Inc. collaborated March 1 on a special version of this semester's Storytelling Series Luncheon with a focus on women's impact in the field of engineering. The series brings together students, faculty and staff in a casual atmosphere, where they can share leadership ideas, experiences and challenges.
Set in the Applied Engineering and Technology Building on the UTSA Main Campus, the idea for this luncheon came from electrical engineering student Justina Williams. With the success of the last luncheon hosted by Boeing, the vision of an environment to discuss topics involving women in leadership continued with an event centered on engineering.
The luncheon opened with remarks by Tania Hernandez, president of the UTSA Society of Women Engineers, and Mauli Agrawal, dean of the UTSA College of Engineering. The keynote speaker was Laura Lozano, strategic director of border communications for Motorola Solutions.
Participants included a mix of students and women working in the field of engineering. Guests included Melissa Gray, director of sustainability for Rackspace; Sarah Hancock-Gamez, civil engineer for Geotechnical Consultants Inc.; Margarita Hernandez, City of San Antonio Public Works Department; Susan Landreth, project manager at Vickrey and Associates; Afamia Elnakat, associate professor of research in the UTSA Texas Sustainable Energy Research Institute and environmental science lecturer; Evelynn Mitchell, assistant professor at St. Mary's University; Rena Bizios, UTSA professor of biomedical engineering; Ruyan Guo, UTSA professor of engineering; Heather Shipley, UTSA assistant professor of civil and environmental engineering; Cara Tackett, civil and environmental engineer and vice president for land development at Pape-Dawson Consulting Engineers; Shauna Weaver, vice president for land development for Pape-Dawson Consulting Engineers; and Allison Cochrane, vice president for enterprise strategic development at Zachry Holdings Inc.
Also sharing their leadership stories were more than 70 UTSA women engineering students. Students facilitated discussion at each of 12 tables on the topics of leadership styles, qualities and experiences. The facilitators included Justina Williams, Martha Wright, Ta'mara Williams, Elsa Buvick, Twinkle Hernandez, Iris Kelly, Alex Hampshire, Laura Oranday, Casey Bordelon, Nikki Brown, Samantha Arriaga and Tania Hernandez.
------------------------------
The Storytelling Series Luncheon is presented each spring and fall semester. To attend, email Jana Schwartz. For more information, visit the UTSA Student Leadership Center website or go to University Center Room 1.002 on the Main Campus.