UTSA hosts City of San Antonio district 5 candidate forum April 13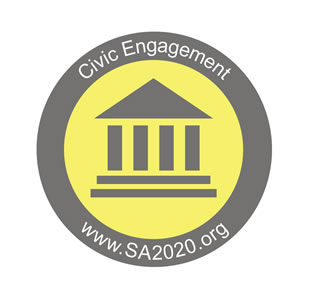 Share this Story
(April 9, 2013) -- The UTSA Student Government Association, the UTSA College of Public Policy and the San Antonio Area League of Women Voters will host a District 5 candidate forum at 6 p.m., Saturday, April 13 in the Frio Street Building Riklin Auditorium (1.402) at the UTSA Downtown Campus. The forum is free and open to the public.
Free parking for the forum will be available in lot D3 under Interstate 35.
UTSA is hosting the forum to educate the general public about the local offices, allow voters to compare the candidates and their positions, and to raise voter interest and participation in the upcoming election. All candidates on the ballot for District 5 are invited to participate in the forum. Questions will be taken from the audience and addressed to each candidate. Additionally, the UTSA Downtown Campus is in District 5.
"This candidate forum is a great opportunity for students to connect and get engaged with civic engagement," said Zack Dunn, SGA president. "It's opportunities like this that make UTSA the type of institution that is known for taking great strides to impact their respective surrounding community."
"These candidate forums are an important component of UTSA's commitment to SA2020, in which we serve as lead partner on government accountability and civic engagement," said Francine Romero, assistant dean of the UTSA College of Public Policy. "This sort of event helps to enhance civic engagement in general, and we also hope it will have a specific and measurable impact by increasing voter turnout in municipal elections."
>> UTSA's 14th Annual NIUTSA Fiesta Jazz Style, featuring The Alex Sutherlin Project and Atlanta Jazz Band, will be in Bill Miller Plaza at the UTSA Downtown Campus following the District 5 forum. Free and open to the public, the pre-Fiesta event will 7:30- 9:30 p.m.
For more information, contact the UTSA Student Government Association at 210-458-4597.