Former U.S. Rep. Charles Gonzalez to speak April 9 at UTSA Downtown Campus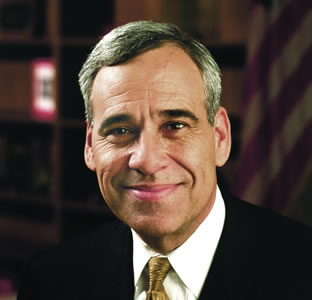 Share this Story
(April 8, 2013) -- The UTSA College of Public Policy will present "The New Congress: Déjà vu All Over Again," a free public lecture by former U.S. Rep. Charles Gonzalez. The lecture is 5:30 p.m., Tuesday, April 9, in the Frio Street Building Riklin Auditorium (1.406) on the UTSA Downtown Campus.
Gonzales is slated to announce the donation of his Congressional papers to the UTSA Libraries Special Collections. A reception co-sponsored by the UTSA College of Public Policy and UTSA Libraries will follow the lecture in the Durango Building Southwest Room (1.124).
"Rep. Gonzalez has gained a wealth of knowledge throughout his career, and his willingness to share his experiences will offer UTSA students and the community-at-large with a rich opportunity to learn about the policies that have shaped San Antonio and Texas for the last two decades," said Rogelio Saenz, dean of the College of Public Policy.
In 2012, the UTSA College of Public Policy was named the lead partner for the SA 2020 Government Accountability and Civic Engagement focus area, which aims to build a stronger San Antonio through citizen input and collaboration.
"As the lead partner for the SA 2020 government accountability and civic engagement focus area, it is critical that UTSA provide opportunities to engage citizens and elected leaders in authentic dialogues that will shape public policy," said Francine Romero, UTSA associate professor of public administration and associate dean of public policy.
Over the course of his judicial and congressional careers, Gonzalez has received numerous awards recognizing his commitment and work in the legal profession and in seeking public policies to further diversify our nation's energy sources, increase access to quality health care, improve our educational system and foster better relations with Mexico.
During his judicial career, Gonzalez was voted one of the highest ranked judges in Bexar County. While judge of the County Court at Law Number Two, he instituted numerous reforms. He created a separate civil docket system lauded by civil law practitioners and the business community and a domestic violence docket. He also worked to make municipal court tribunals of record and sponsored rules that placed prohibitions on the use of the county courtrooms and personnel for personal gain.
In 1988, Gonzalez sought to succeed his father, Henry B. Gonzalez, as U.S. Representative from the Texas 20th District. He was elected in 1996 and served until January 3, 2013. Together, he and his father represented the 20th Congressional District for a combined total of 51 years.
During his seven terms in Congress, Gonzalez served on the Financial Services, Small Business, Homeland Security, House Administration, Judiciary, and Energy and Commerce committees. He chaired the task force to determine the winner of the contested Florida Congressional District 13 election. From 2011 to 2012, he served as chair of the Congressional Hispanic Caucus and the Congressional Hispanic Caucus Institute. He currently is a member of the bipartisan Policy Center's Commission on Political Reform.
Located at the UTSA Downtown Campus, the College of Public Policy enrolls more than 1,300 students including more than 400 graduate students in the UTSA criminal justice, demography, public administration and social work departments. The college offers four graduate and two undergraduate programs. It also houses the Center for Policy Studies and the Institute for Demographic and Socioeconomic Research.