UTSA Department of Music presents singer Ernie Halter and indie band Mother Falcon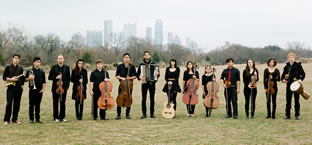 Share this Story
(April 10, 2013) -- The UTSA Department of Music marketing program will present nationally known singer-songwriter Ernie Halter and Austin's 21-piece, award-winning orchestral indie band Mother Falcon for a concert performance at 8 p.m., Wednesday, April 24 in the Arts Building Recital Hall on the UTSA Main Campus. Admission is $15.
Halter's music has been featured on "Good Morning America," "Jimmy Kimmel Live" and "Keeping Up With the Kardashians." Additionally, he has shared the studio and the stage with several top acts including Neil Young, Katy Perry, Lady Antebellum, Jason Mraz, Colby Caillat and Sara Barielles.
Halter made international headlines in 2011 when Justin Bieber made a surprise appearance at his concert in Costa Mesa, Calif., and joined him onstage to perform his composition, "Come Home To Me." Halter has released five albums, most recently his acoustic album "Hi Fidelity." Following Halter's performance, Austin 21-piece orchestral indie band Mother Falcon will take the stage.
With only two albums under its belt, Mother Falconhas risen to the top of Austin's live music scene, selling out several noted venues including Antone's, The Mohawk and The Parish. The large multi-instrumental band that combines orchestra and pop styles performed at SXSW last month and has made several festival appearances including FunFunFun Fest. The group was a headliner for the Austin Chamber Music Festival in 2012. For the last three years, Mother Falcon won the "Best None of the Above Award" category at the Austin Music Awards.
The concert will be produced by students in the UTSA Music Marketing program in the College of Liberal and Fine Arts. The program provides students the opportunity to work directly with professionals and learn various facets of the music industry. Students participate in creative music marketing projects in a seminar setting and as a dedicated course for projects.
Previous UTSA music marketing program projects include:
Promoting a concert collaboration with the classic rock group Kansas and the UTSA Orchestra,
Working with San Antonio Symphony management to market orchestral concerts to colleges,
Assisting with the production of the international Southwest Guitar Festival and
Organizing a highly successful battle of the bands competition at a local music venue.
For more information, visit the UTSA Department of Music website.