UTSA Teaching and Learning Center announces University Teaching Fellows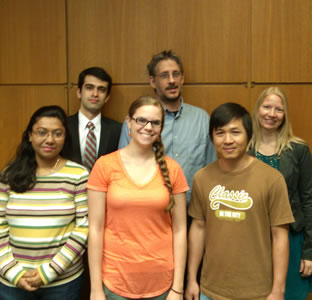 Share this Story
(April 25, 2013) -- The UTSA Teaching and Learning Center announces 10 selections for the 2013-2014 University Teaching Fellows. The program helps doctoral student develop their teaching and other academic skills by providing service to their departments and the university.
Each fellow also receives a $25,000 award and a 50-percent appointment as a graduate assistant in exchange for 20 hours per week toward their professional development and service.
"We had an overwhelming response this year with 34 nominees -- the most applicants since the program began," said Barbara Millis, director of the Teaching and Learning Center. "Unfortunately, we can accept only a certain number, but I welcome those interested to resubmit their application next year."
The selected 2013-2014 University Teaching Fellows are:
Tanjima Bhuiyan, Electrical and Computer Engineering
Jennifer Bonavia, Anthropology
Snigdha Boppid, Chemistry
Virak Chan, Bicultural-Bilingual Studies
Don Davis, Interdisciplinary Learning and Teaching
Diane Elizondo, Educational Leadership and Policy Studies
Nima Kordzadeh, Information Systems and Cyber Security
Jitin Samuel, Mechanical Engineering
Sonia Valencia, English
Griette van der Heide, Anthropology
A committee including Daniel J. Gelo, dean of the College of Liberal and Fine Arts; Dorothy A. Flannagan, vice provost and dean of the Graduate School; Krisellen Maloney, dean of the UTSA Libraries; Nancy K. Martin, associate vice provost for University College; and Millis reviewed the application packets. Martin also interviewed the candidates.
In the fall, six fellows -- Bonavia, Chan, Davis, Kordzadeh Valencia and van der Heide -- will support the pilot academic inquiry courses, which will replace the freshman seminar courses.
The graduate students' departmental work will involve a variety of projects including developing teaching assistant led discussion sections, examining and critiquing current course content, developing instruction manuals, supporting recitation sections, designing a digital archive for teaching resources, helping to develop an Internet-based approach to teaching and supporting faculty efforts to teach effectively.