Still time: Early-vote through May 7 at H-E-B University Center, UTSA Main Campus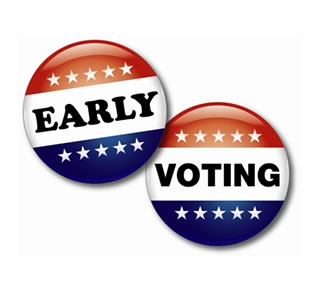 Share this Story
(May 6, 2013) -- Members of the community still have time to vote early for the city council and mayoral elections. Anyone who is a registered Bexar County voter can vote at UTSA and other early-voting sites through Tuesday, May 7. Election Day is Saturday, May 11.
>> Voter early at the H-E-B University Center Bexar Room (1.102) on the UTSA Main Campus from 8 a.m. to 8 p.m., Monday-Tuesday, May 6-7. Visit the Bexar County Elections Department website to download a complete list and map of early voting sites, frequently asked questions about voting and sample ballots.
"Voting on campus is an example of how our students, faculty and staff encourage community engagement," said Elvira Jacquez, UTSA assistant director for external affairs. "We invite the UTSA community as well as our neighboring communities to come vote on our campus. We want guests to have an easy voting experience, and we also want them to see how UTSA has grown as a community."
The UTSA College of Public Policy, several student organizations, and UTSA faculty and staff have been active for the last year in registering voters.
"Providing a convenient early-voting site for our UTSA community as well as nearby residents fits perfectly with the College of Public Policy's role as lead partner in the SA 2020 government accountability and civic engagement element," said Francine Romero, associate dean in the UTSA College of Public Policy. "One of our targeted indicators is voter turnout in municipal elections, and early voting is one of the strategies for improving this outcome."
Last fall, more than 100 UTSA students, faculty and staff attended 30-minute training sessions at the Bexar County Voter Registration Department and were sworn in as volunteer deputy registrars. They subsequently promoted voter registration on the UTSA campuses and across Bexar County.
UTSA student groups that participated in voter registration events on campus included the Student Government Association, College Republicans, Young Democrats, Black Student Union, Alpha Kappa Alpha, GLBTQ, Students United for Socioeconomic Justice, Young Americans for Liberty and M.O.V.E.
"Having students vote in these elections has a huge impact not only on the university, but on our community," said Zack Dunn, president of the UTSA Student Government Association. "When students get engaged in civic affairs and look to voice their respective opinions, it allows them to be a part of something greater than themselves."
--------------------------------
Identification at voting sites
Voters must bring a voter registration certificate or other form of identification to the voting site. According to the Texas Secretary of State website, acceptable alternative forms of identification include:
Driver's license or personal identification card issued by the Texas Department of Public Safety (or similar document issued by an agency of another state, even if the license or card has expired);
Form of identification that contains photograph and establishes voter's identity;
Birth certificate or other document confirming birth that is admissible in a court of law and establishes the person's identity;
U.S. citizenship papers;
U.S. passport;
Official mail addressed to voter by governmental entity;
Or a copy of a current utility bill, bank statement, government check, paycheck or other government document that shows voter's name and address.
For more information about the UTSA early voting site, contact Elvira Jacquez at 210-458-4009. Learn more about the UTSA College of Public Policy.