Meet a Roadrunner: Heather Williams, UTSA Libraries instructional designer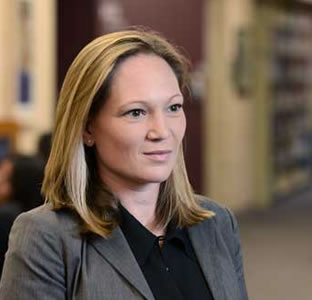 Share this Story
(April 16, 2013) --Meet Heather Williams. She's so dedicated to her job that sometimes she gets out of bed in the middle of the night to jot down thoughts for projects.
As an instructional designer for the UTSA Libraries, she takes traditional classroom content and transforms it into online tutorials that combine text, graphics, videos, animation and quizzes.
Williams has created tutorials for many departments at UTSA including the Teaching and Learning Center, and the physics and psychology departments. The topics range from cultural competency to presentation skills.
Williams, who has worked at the UTSA Libraries for two years, sees limitless possibilities to online learning. She believes it doesn't take the place of in-person teaching; it amplifies it.
This Roadrunner has always loved computers, and this position puts all her best qualities to work.
"When you have a job that you're continually thinking about, I think it says a lot about how much you enjoy and are dedicated to your profession."
Do you know someone who's totally and utterly dedicated to UTSA? Email us at social@utsa.edu. Your submission might be used for the next installment of Meet a Roadrunner.