UTSA ranked sixth in nation for Hispanic graduates by Hispanic Outlook in Higher Education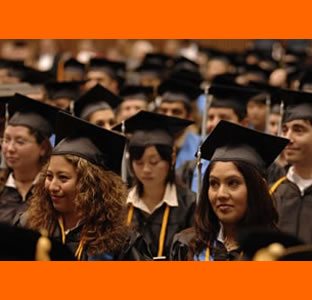 Share this Story
(May 20, 2013) -- The University of Texas at San Antonio is No. 6 in the nation in the number of undergraduate and graduate degrees awarded to Hispanic students, according to the May 2013 edition of The Hispanic Outlook in Higher Education.
UTSA earned its No. 6 ranking for awarding degrees to 2,250 Hispanic undergraduate and graduate students out of 5,224 students total in 2010-2011, representing 43 percent of the graduating class.
"With a Hispanic student population of roughly 45 percent, these rankings demonstrate how truly committed we are to ensuring their success," said Lisa Firmin, UTSA associate provost for faculty and student diversity and recruitment. "We are very proud of these top-tier rankings."
For the fifth consecutive year, the UTSA School of Architecture ranked first with 71 undergraduate degrees awarded to Hispanics. For the second consecutive year, UTSA ranked first in health and physical education undergraduate degrees awarded to Hispanics.
Each year, the magazine also includes Hispanic student participation across several major fields of study. The UTSA undergraduate degree rankings include:
No. 1 – Architecture: 71 (48 male and 23 female)
No. 1 – Health and physical education/fitness: 120 (59 male and 61 female)
No. 3 – Mathematics: 31 (19 male and 12 female)
No. 4 – Criminal justice: 136 (65 male and 71 female)
No. 4 – Psychology: 162 (46 male and 116 female)
No. 8 – Human resource management: 20 (3 male and 17 female)
The April 2013 issue of The Hispanic Outlook in Higher Education ranked UTSA No. 7 among graduate schools enrolling Hispanics and No. 15 in the number of master's and Ph.D. degrees awarded to Hispanics in the fields of science, technology, engineering and math. UTSA earned the ranking for enrolling 1,698 Hispanic graduate students of 4,700 graduate students, representing 36 percent of the incoming class. UTSA earned its No. 15 ranking for awarding master's and doctoral degrees to 24 Hispanic students of 155 graduate students, representing 15 percent of the graduating class.
Each year, The Hispanic Outlook in Higher Education surveys the Top 100 predominantly Hispanic-serving colleges and universities in the United States and Puerto Rico. It obtains the information for its rankings from the U.S. Department of Education's National Center for Education Statistics (NCES).
UTSA is one of more than 200 Hispanic-serving institutions (HSIs) in the United States, accredited with a full-time Hispanic enrollment of 25 percent or greater. In 2012, HSI programs received $220 million in federal funding.
In addition to recognition from The Hispanic Outlook in Higher Education, the UTSA College of Business and College of Engineering are ranked the No. 7 and No. 5 in the nation for Hispanics, respectively, by HispanicBusiness magazine. UTSA also was among 27 higher education institutions across the nation honored in 2012 for its commitment to diversity by Minority Access Inc.
------------------------------
About UTSA
The University of Texas at San Antonio (UTSA) is an emerging Tier One research institution specializing in health, energy, security, sustainability, and human and social development. With nearly 31,000 students, it is the largest university in the San Antonio metropolitan region. UTSA advances knowledge through research and discovery, teaching and learning, community engagement and public service. The university embraces multicultural traditions and serves as a center for intellectual and creative resources as well as a catalyst for socioeconomic development and the commercialization of intellectual property -- for Texas, the nation and the world.