New exhibit chronicles UTSA students' experiences during annual civil rights trip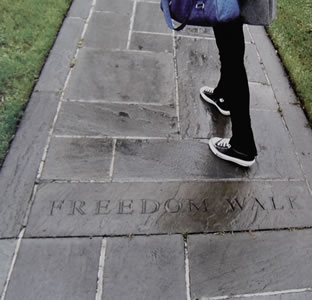 Share this Story
(May 3, 2013) -- The UTSA Institute of Texan Cultures, in collaboration with the UTSA Student Leadership Center and the UTSA Inclusion and Community Engagement Center, announce the exhibit "The Progression of a Dream." The exhibit features photographs taken by UTSA students as they participated in the civil rights exploration trip, The Progression: An Exploration of Civil Rights. The exhibit will run through June 30 at the Institute of Texan Cultures.
Several of the 39 students who took part captured photos during visits to sites significant in the Civil Rights Movement in New Orleans, Birmingham, Ala. and Memphis, Tenn.
Nathan McDuell, a senior communication major, is one of the students who shares in the exhibit his photographs from the trip and his words in accompanying captions expressing how he felt at the moment he took the photos. The students were encouraged to reflect on their photos as part of their civil rights and social justice experience.
McDuell wrote about his experience visiting the Lorraine Motel in Memphis: "When we were younger, we read about Martin Luther King Jr. and the day that his life was taken from him. However, it is a very different experience standing in the exact location where he was at that moment. Touring this area was what I consider one of the best moments of the trip. It was a meaningful experience to know where a leader stood who made a monumental difference in the history of the world."
The UTSA Student Leadership Center thanks graduate assistant Ann-Margaret Gonzalez for her hard work and dedication to the collaboration with the UTSA Institute of Texan Cultures.
Students, faculty and staff are admitted at no charge with UTSACard. For more information, visit the Institute of Texan Cultures website.
For information about The Progression and leadership development opportunities, contact the UTSA Student Leadership Center at 210-458-7967, leadership@utsa.edu or in University Center Room 1.002, Main Campus.
------------------------------
The Institute of Texan Cultures is on the UTSA HemisFair Park Campus, 801 E. César E. Chávez Blvd., a short distance from the Alamo and the River Walk. Hours are 9 a.m.-5 p.m., Monday-Saturday; noon-5 p.m. Sunday. Admission is $8 for adults (ages 12-64); $7 for seniors (ages 65+); $6 for children (ages 3-11); free with membership, UTSA or Alamo Colleges identification. For more information, call 210-458-2300 or visit TexanCultures.com.