LeaderShape Institute helps UTSA students discover passion for service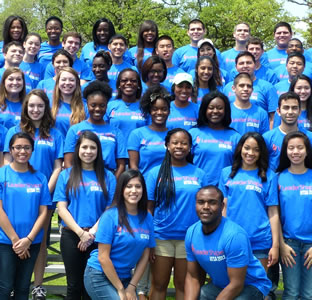 Share this Story
(May 29, 2013) -- The UTSA Student Leadership Center recently hosted the 2013 UTSA LeaderShape Institute. Sixty UTSA students spent six intense days at the John Newcombe Tennis Ranch in New Braunfels completely focused on discovering what drives their passion for change and how they can impact their community.
The mission of the LeaderShape Institute is to transform the world by increasing the number of people who lead with integrity and "a healthy disregard for the impossible."
During the institute, 60 students were asked to discover their vision and create an action blueprint for change. Throughout the six days, students learned how leadership is not positional and does not require any formal authority. They were consistently challenged to discover what they truly desired to see happen in their community and ultimately in the world.
Guiding the students throughout the six days were their family cluster facilitators, who included Carol Gonzalez, UTSA student ombudsperson; Herb Ganey, interim director of the UTSA University Center; Cristina Dominguez, program coordinator of UTSA Volunteer Services; Matt Keneson, academic advisor for the UTSA Center for Freshman Advising; and Derek Bell, UTSA alumnus and housing director for Texas State University. The students did much of their vision work within their family clusters of approximately 12 students. During the six days, the family clusters grew close and became a place full of support and encouragement.
During LeaderShape, the students participated in a guest leader panel discussion, where they were able to share their visions and ask questions of prominent members of the San Antonio business community.
The guest panel, hosted by Marjie French, UTSA vice president for external relations, included: David Zammiello, USAA vice president for staffing and compensation; Melissa Rosales, owner of REAL Physical Therapy, Melissa Aguillon, president and owner of Aguillon & Associates; Yvonne Fernandez, assistant vice president of commercial services for Security Service Federal Credit Union; Silvia Gangel, president of SiGa International Commercial Real Estate, and Roy Schroer, Union Pacific assistant vice president for human resources.
"This was a remarkable experience for me," said Miracle Cooke, a junior public health major. "I met some really great friends that I know I'll have lasting relationships with at UTSA and beyond. I've bettered myself as a result of LeaderShape. I know that this experience will stay with me long after LeaderShape."
For more information about the programs and events, visit the UTSA Student Leadership Center website, call 210-458-7967 or visit our office in H-E-B University Center Room 1.002 on the UTSA Main Campus.
------------------------------
>> See photos from this year's LeaderShape Institute.
>> To see tweets from this year's LeaderShape Institute, follow #UTSALS2013.
>> Watch a video about the LeaderShape Institute.
------------------------------
The 2013 LeaderShape Institute participants were:
Christina Adebowale
Rosemary Beavers
Andrea Bocanegra
Lilian-Ann Bonaparte
AJ Buadu
Jovanna Castaneda
Edward Castillo
Joel Castro
Nancy Delgado
Julie Diaz
Jennifer Do
Michael Doucette
Tanya Farirayi
Davina Fatunbi
Hussein Fawaz
Courtney Fernando
Christopher Garcia
Marcos Garcia
Quinton Garcia
Boyd Garriott
Shayquana Glover
Renata Glusker
Jared Gonzales
Kaelie Gonzales
Ileana Gonzalez
Leslie Hernandez
AnaLisa Hernandez
Teia Herrer
Brian Houston
Meghan Hull
Nkiru Ijoma
Marston Jefferson
Ariele Kinney
Daniel Kline
Robin Koko
Robert Lucas
Jasmine Mancilla
Alexus Mark
Kenneth Martinez
Aspen Meineke
Abigail Morales
Sydney Mullings
Ajai Muwwakkil
Chau Nguyen
Feyi Osifuwa
Iris Ozuna
Katrina Parkey
Kush Patel
Avery Pfeiffer
Erik Ramirez
Sadie Rodriguez
Steven Rodriguez
Linda Tappa
Kristyn Tovar
Andrea Watson
Ciarrah Williams
Znobea Williams
Justin Xu
David Zhang