NISD honors UTSA Volunteer Services for at-risk student mentorship program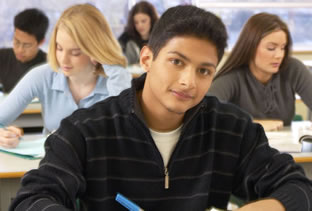 Share this Story
(May 8, 2013) -- The Northside Independent School District (NISD) honored the UTSA Volunteer Services Program led by program coordinator Cristina Dominguez at its annual Partnerships and Recognitions Awards ceremony April 16. The program received the Outstanding Partnership Program Award for its work with at-risk students attending the Northside Alternative Middle School North campus (NAMS North). Dominguez accepted the award on behalf of the program.
NISD Superintendent Brian Woods and the NISD Board of Trustees individually recognized the winners. UTSA Volunteer Services and fellow winners now will compete at the state level in the Texas Association of Partners in Education awards contest.
Last fall, the partnership between UTSA Volunteer Services and NAMS North created a mentor program aimed at helping at-risk students at the school believe they can change their future. The partnership has seen a profound impact on many of these students' attitudes toward education. The UTSA volunteers mentor NAMS North students on the value of education and teach them about the different avenues for academic success.
Many of the students have encountered obstacles to success such as gang activity, drug abuse, violence or criminal behaviors that have dissuaded them from trying to succeed in school. The volunteers attempt to guide the middle school students to better life choices by educating them about how wrong choices can have a profoundly negative effect on their lives.  Additionally, the NAMS North students are taught about the college application process, what admissions offices look for in prospective students and the financial aid process.
The UTSA Volunteer Services Program aims to connect the UTSA and San Antonio communities through a broad range of community engagement and service learning project opportunities for student involvement while addressing social issues and community needs.
>> Learn more at the UTSA Volunteer Services Program website.