Inaugural UTSA Office of the Registrar Merit Awards honor staff members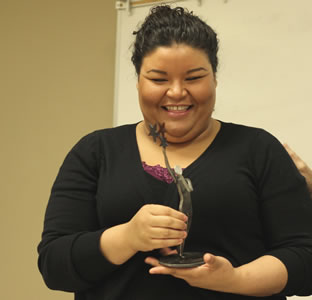 Share this Story
(May 9, 2013) -- Since joining the UTSA Student Affairs staff 40 years ago in May 1973, Fred Hample has worked with the UTSA Office of the Registrar and the Office of the Vice President for Student Affairs to create a better environment for his colleagues and students. This week, the UTSA Office of the Registrar honored Hample in the inaugural Registrar's Office Merit Awards.
"Working at the same place for 40 years like Fred has here at UTSA is simply amazing," said Joe DeCristoforo, UTSA associate vice president and university registrar. "Fred has been an absolute dream to work with, as he just knows so much about UTSA from the ground up."
Hample received the Self-Made Man Award, a celebration of his service and dedication to UTSA. He served as the assistant to the UTSA director of admissions and registrar from 1974 to 1976, as assistant registrar from 1976 to 1979, as associate registrar for 26 years from 1979 to 2005 and as director of the UTSA Downtown Campus Registrar's Office operations from 2005 to 2007.
Currently, he is executive director of student affairs operations at the Downtown Campus, where he represents the UTSA Division of Student Affairs. He also serves on the UTSA Downtown Council, the Athletics Council and the Academic Standards Sub-committee, the Committee on ADA Accessibility, the Student Affairs Strategic Planning Committee, the Graduation Coordination Committee and the Veterans Services Advisory Committee.
"Fred has had a long and distinguished career at UTSA," said Sam Gonzales, interim UTSA vice president for student affairs. "His expertise has helped shape the registrar's infrastructure and improved services for our students, and his judgment and insight have proven invaluable to his friends and colleagues in Student Affairs."
The Office of the Registrar also honored Ana Rodriguez, UTSA athletic certification specialist. Rodriguez will receive the inaugural Registrar's Office Merit Award. The award honors a member of the registrar staff who has made a strong, positive impact in the Office of the Registrar during the last year. She joined UTSA in 2010. As athletic certification specialist, Rodriguez oversees the academic progress of student athletes to determine eligibility as required by the National Collegiate Athletic Association.
"Ana started in the Registrar's Office as an administrative assistant covering our front desk reception area," said Sally Bench, director of registration and records. "In a very short time, because of her talents and skills, she was promoted twice to athletic certification specialist. She embraces her heavy work load with aplomb and accuracy -- she never loses her smile and is always gracious and kind to the students she serves."
The UTSA Office of the Registrar is committed to providing high-quality service, accurate student records management and timely reporting of enrollment information utilizing leading-edge technology to the multi-campus university community.