UTSA's Robert McKinley appointed to Mexico-U.S. entrepreneurship council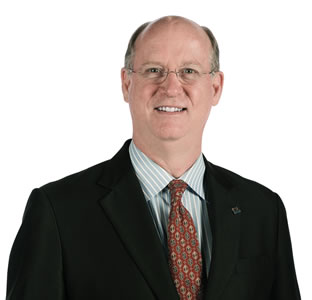 Share this Story
(May 22, 2013) -- The U.S. State Department has appointed UTSA Associate Vice President for Economic Development Robert McKinley to the Mexico-U.S. Entrepreneurship and Innovation Council. The council was established jointly in Mexico City on May 2 by President Barack Obama and President Enrique Peña Nieto.
Comprised of 20 members, each from the United States and Mexico, the council will develop a work plan to integrate programs and activities in each country and jointly promote the growth of entrepreneurs and trade. The plan will address:
the legal framework supporting entrepreneurs,
how to promote women entrepreneurs,
how to engage entrepreneurs in Latin America,
the integration of each country's small business network,
best practices from regional innovation clusters,
ways to support commercialization in both countries and
financing for high impact and innovative entrepreneurial ventures.
The council also will lay the foundation for Mexico to become the first Latin American country to participate in the Global Entrepreneurship Program, an overarching U.S. program that promotes entrepreneurship around the world.
Since 2003, the UTSA Institute of Economic Development, led by McKinley, has served as a technical consultant to 15 Latin American and Caribbean nations in adopting the Small Business Development Center model. To date, UTSA has assisted in establishing 113 small business development centers in Mexico alone as part of its mission to create jobs, grow businesses, and foster economic development and trade. The institute consistently ranks among the top economic development programs among peer universities nationwide and has been engaged by the State Department to share its experience. Together with federal, state and local governments, and private businesses, the institute fosters economic and community development in support of UTSA's community engagement mission.
McKinley's career experience uniquely suits him to advise on entrepreneurship and innovation approaches to achieve the inclusive growth goals of the United States and Mexico. He currently leads the UTSA Institute of Economic Development with a portfolio of a dozen centers and programs that provide business training, consulting and research to more than 38,000 clients annually across the South Texas Border Region.
In 2012, the institute's client services generated more than 4,000 new jobs, 500 start-ups and 500 business expansions, generating increased revenues and financing exceeding $1.4 billion. The institute's International Trade Center generated $370 in trade last year for area small businesses, leveraging the new Latin American SBDC networks as distribution channels.
Before joining UTSA in 1990, McKinley built and managed a 94,000-square-foot business incubator facility for Control Data Corp. The project, based in a redeveloped area of San Antonio, achieved 97-percent occupancy, housed more than 60 small businesses with 550 employees and was profitable as a private-sector economic development venture.
From 1980 to 1985, McKinley was executive director of the Fort Worth Mexican-American Chamber of Commerce. During that time, the chamber's minority business programs tripled productivity to assist clients in marketing their goods and services to government and corporations, efforts that resulted in sales of $65 million per year.
From 1977 to 1979, McKinley was a community organizer for La Misión de Amistad, Município de Tizimín, Yucatán, Mexico. The church-sponsored mission coordinated rural development activities including economic development, health, agricultural, literacy and educational projects, while affording McKinley the opportunity to learn Spanish and Mayan language and culture.
"Entrepreneurship and innovation are major drivers of inclusive growth for all countries," said McKinley. "As our universities in both nations expand educated labor supply, we also must work together to stimulate business expansion and high-skill, higher-paid labor demand as the key to our mutual prosperity. The council role will offer a high-level forum to advance the jobs and prosperity agenda."