UTSA inaugural Service-Learning Symposium features student projects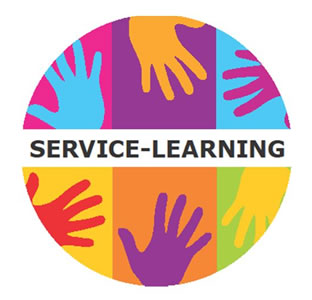 Share this Story
(May 2, 2013) -- The UTSA Inclusion and Community Engagement Center recently hosted the inaugural Service-Learning Symposium in the University Center ballroom on the Main Campus. The symposium focused on the benefits of service-learning in higher education.
The day began with the faculty-member workshop "Developing a Premier Service-Learning Course" by keynote speaker Jeffrey Howard, founder and editor of the Michigan Journal of Community Service Learning. His keynote address, "Transforming Service-Learning Teaching and Community Involvement into Community Engaged Scholarship," was heard by UTSA faculty, staff and students, and representatives from higher education institutions across the city.
Nineteen student posters were featured in the poster session after the keynote address. To be considered for the symposium, projects had to be part of a UTSA course. During the poster session, students answered questions about their projects and offered insights about the experience. Three posters were selected to win $250 prizes.
Robert Mochel, a senior in the Multidisciplinary Studies Senior Seminar of Professor Gabriel Acevedo, won Individual First Prize for his poster highlighting service at the Saddle Light Center for Therapeutic Horsemanship.
According to Mochel, "I was resistant to the notion of volunteerism, however, once I worked with the Service Learning Center, and I saw the impact my special skills and talents had on the day to day operations, I changed my mind about serving the public, particularly assisting nonprofit organizations."
Natalie Ramirez led a group of graduate students enrolled in Children and Youth with Developmental Disabilities taught by Professor Christopher Rivera. They won Group First Prize honors with their "Enriching the LEAP Program Through Service-Learning" project with The Arc of San Antonio foundation.
"Our classroom project is a prime example of service learning because we are having the ability to actually apply the content we are learning in class, to real life examples; there is no better way to learn then through implementation," said Ramirez.
Sabrina Macal-Polasek, a senior in the Certification in Nonprofit Management and Leadership course with Professor Patricia Jaramillo, won the People's Choice Award for her poster "Transforming Public Schools and Creating Ripples of Hope with City Year San Antonio."
The Service-Learning Advisory Board members, Wells Fargo Community Leadership Award winners and sponsors of UTSA service-learning programs also were recognized for their work at the event.
For more information about UTSA Service-Learning, visit the UTSA Inclusion and Community Engagement Center website or call 210-458-4770.