Calling all Roadrunners: Partner with Silver and Black Give Back program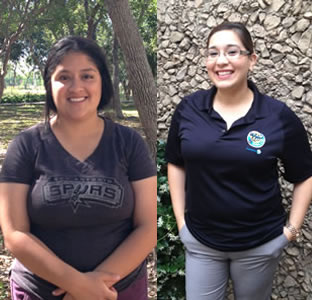 Share this Story
(May 9, 2013) -- Three years ago, Silver & Black Give Back -- the Spurs Sports & Entertainment nonprofit -- launched the Team Up Challenge. Last year, UTSA students Fedra Chapa and Tessa Benavides were paired with two of the groups recently named Team Up Challenge Champions. Their student groups received $20,000 respectively to continue serving their communities.
The Team Up Challenge is a unique youth-led, service-learning program that challenges K-12 students to address a community need. Students must create a program that falls into one of these five categories: arts and culture, education, environment, health and wellness or uniformed services.
Each Team Up Challenge group is paired with a college student Scholar to provide guidance throughout the year of service. Scholars provide assistance to the students in the planning and execution stages of the projects. Throughout the year, Scholars help the Team Up Challenge students bring to life what is taught in the classroom, while also navigating students through the real-world hurdles they may face.
Last year, the very first group of Team Up Challenge Scholars, presented by AT&T, was selected. UTSA provided five Team Up Challenge Scholars, and Silver & Black Give Back is grateful for the continued interest and support shown by the Roadrunner community. Among these five students were Chapa and Benavides. Both Chapa and Benavides are students in the Master of Public Administration degree program in the UTSA College of Public Policy.
In addition to providing guidance, Scholars coordinate a day to bring students to the UTSA campus for a college visit. Some of the Team Up students will be the first in their families to actively pursue a college degree. The positive influence from a Team Up Scholar can go a long way in motivating the K-12 students to plan for life after high school.
With the Team Up Challenge program, Silver & Black Give Back sees youth-led service learning happening on more than one level as K-12 students bring projects to life and college students guide them along the way.
While the 2013 Summer Team Up Challenge projects are getting underway, Silver & Black Give Back is already planning for the 2013-2014 Team Up Challenge year. College students interested in becoming a Scholar can submit an application at TeamUpChallenge.com. Scholars receive invaluable leadership training and a $500 stipend per semester that runs Sept. 11-April 15.
For more information, visit the Silver & Black Give Back website.