UTSA doctoral student selected to attend prestigious Nobel laureates meeting in Germany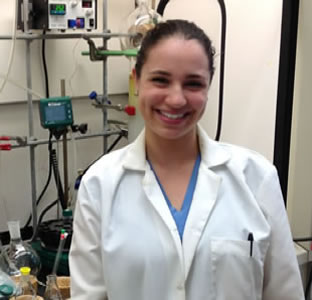 Share this Story
(June 24, 2013) -- For the fourth time in five years, a UTSA College of Sciences student has been selected to attend the prestigious Meeting of Nobel Laureates and Students in Lindau, Germany, June 30-July 5.
Amanda Nolan, a doctoral student in the Department of Chemistry, will be among 600 young scientists representing nearly 80 countries. Nolan was chosen from a pool of 20,000 applicants from around the world.
The meeting assembles the world's top graduate and post-doctoral students to discuss current topics in chemistry, exchange ideas, build international networks and gain inspiration from Nobel laureates in their fields. Nolan and others will attend lectures by the Nobel laureates and participate in discussions about the challenges and future implications of chemistry research.
"I am both nervous and excited because these are the best minds in the field," said Nolan. "To be able to have the chance to talk with them and learn from them is going to be an unforgettable experience, and I can only imagine what it is going to do for me and my future."
Nolan is working on cancer stem cell research in the laboratory of Doug Frantz, UTSA chemistry professor and co-director of the UTSA Center for Innovation in Drug Discovery.
"I have had several family members and friends pass away from cancer, and it was very painful for me to see people I care about losing their battles with the disease," said Nolan. "As I grew older, I developed a better understanding of cancer in scientific research and decided it was an area I wanted to pursue."
The 24-year-old plans to work either in industry doing cancer research or become a professor with a laboratory focused on cancer research.