San Antonio Prefreshman Engineering Program opens on nine local campuses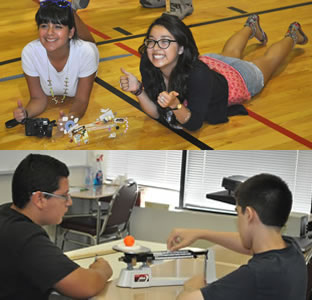 Share this Story
(June 14, 2013) -- More than 1,300 middle and high school students will attend nine local university campuses to participate in the 35th San Antonio Prefreshman Engineering Program (SA-PREP) June 17-July 31.
Established in 1979 at The University of Texas at San Antonio by mathematics professor Manuel Berriozabal, SA-PREP has an impressive track record with nearly 16,000 students completing at least one summer component. The program has been replicated across the state as TexPREP and across the nation as PREP-USA. Overall, PREP programs have served more than 34,000 students. The college attendance of PREP graduates is 80 percent.
The academic levels of the program -- PREP I, PREP II, PREP III and PREP IV -- are presented over seven weeks through lectures, projects, seminars and hands-on activities that allow students to learn and apply advanced STEM concepts. The curriculum includes but is not limited to mathematics, problem solving, engineering, physics, technical writing, water science, nanotechnology, computer science, research and STEM career awareness. In addition to gaining a jumpstart on advanced topics in the hard sciences and mathematics, PREP students can earn college scholarships and high school credit.
"The PREP program is not your typical summer camp," said Rudy Reyna, PREP executive director. "While a camp is usually shorter duration, PREP takes place over seven weeks, and the students enrolled understand it is academically intense and that they are here to learn the fundamentals in the STEM areas -- science, technology, engineering and mathematics. Through PREP, students are prepared, so they can be better problem solvers and so they can successfully pursue careers in science, technology and engineering."
In San Antonio, PREP I will be offered at the UTSA Main and Downtown campuses, Northwest Vista College and Palo Alto College. PREP II will be offered at San Antonio College, University of the Incarnate Word Dual Enrollment Center, St. Philip's College Southwest Campus and Texas A&M University - San Antonio. PREP III will be offered at St. Mary's University and PREP IV will be offered at the UTSA Main Campus.
TexPREP locations include Arlington, Austin, Corpus Christi, Dallas, Edinburg, Fort Worth, Harlingen, Houston, Laredo, Lubbock, McAllen and Victoria.
PREP-USA is offered at Hostos Community College, Bronx, N.Y.; Jersey City University in New Jersey; New Mexico State University in Las Cruces; University of the Pacific in Stockton, Calif. and Utah Valley University in Orem.
To learn more, visit the PREP website or call 210-458-2060.