UTSA pairs students with mentors for College of Sciences Summer Research Experience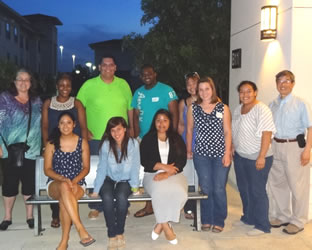 Share this Story
(June 21, 2013) -- UTSA biochemistry professor Andrew Tsin stood in the White House Oval Office in December 2011 to accept the Presidential Award for Excellence in Science, Mathematics and Engineering Mentoring from President Barack Obama. Tsin's national recognition included a $25,000 grant from the National Science Foundation (NSF) to advance mentoring efforts.
The UTSA College of Sciences scholar is now using the grant funding to support a 10-week Summer Research Experience, which pairs undergraduate students with a faculty mentor. This month, the first 10 students selected to participate in the program arrived on the UTSA Main Campus. The diverse group includes two students from Puerto Rico and one student each representing Massachusetts, Mississippi and California. Five are from South Texas.
Rose Joachim grew up in Haiti and moved to Boston with her family. The 20-year-old junior biology major attends the University of Massachusetts in Boston and is interested in attending graduate school then later pursuing a doctoral degree.
Her mentor is Brian Hermann, UTSA assistant professor of biology.
"His lab is working on spermatogonial stem cells and trying to help kids going through chemotherapy treatments for cancer, so they do not become infertile and are able to have families later in life," said Joachim.
While at UTSA, the students will conduct hands-on research in the laboratory with their faculty mentors. The group also will receive training on how to write scholarly papers and apply to graduate schools. Social activities will include attending a San Antonio Missions game and a visit to Fiesta Texas.
"We hope that all the students will take positive feedback with them to their home institutions and help us recruit more students to UTSA," said Tsin. "Our great faculty, students and staff are providing them with a tremendous opportunity for professional advancement and training."
"For students to fully develop, they need more than classroom training to succeed," he added. "We want them fully prepared to enter the workforce or pursue additional training at graduate schools or professional schools."
The program ends Aug. 8, when the students will make poster presentations about the research they completed with their mentors.
Tsin is a nationally recognized biochemist with 30 years of experience in mentoring minority students and other underrepresented groups of students. Under his leadership, more than 100 undergraduate and graduate students have completed their degrees and either continued their educational journeys or taken positions as scientific researchers, medical physicians or educators. As founding director for the UTSA Center for Research and Training in the Sciences, Tsin helped secure more than $52 million in grant funding to support research and training programs for underrepresented minorities.
>> Learn more about the UTSA Summer Research Experience.