UTSA hosts open forums for director of undergraduate admissions candidates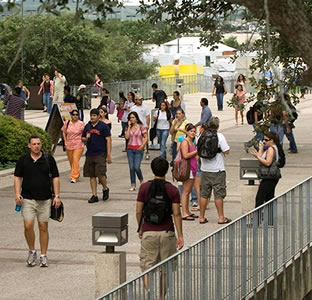 Share this Story
(July 16, 2013) --UTSA students, faculty and staff are invited to attend facilitated open forums July 22 and 31 at the Main Campus to meet finalists for the position of director of undergraduate admissions.
The director of undergraduate admissions is responsible for assuring the creation, implementation and assessment of the comprehensive domestic undergraduate admissions plan.
Additionally, the director leads the management team for communication, customer service, welcome centers at the Main and Downtown campuses, freshmen recruitment, transfer recruitment and undergraduate applicant processing. The director is the senior undergraduate admissions officer across the UTSA Tri-Campus community including the Houston and South Texas regional recruitment centers.
A search committee comprised of faculty and staff representing areas across UTSA has recommended finalists for campus visits. Both forums will be 10:30-11:45 a.m. in the Business Building University Room (2.06.04) on the Main Campus.
Finalist Christopher Dearth from the State University of New York at Fredonia will be on campus Monday, July 22.
Finalist Beverly Woodson Day from Texas State University will be on campus Wednesday, July 31.
Subsequent open forums will be announced as they are scheduled with other finalists.