UTSA's Marcos Cervantes is Institute of Texan Cultures visiting scholar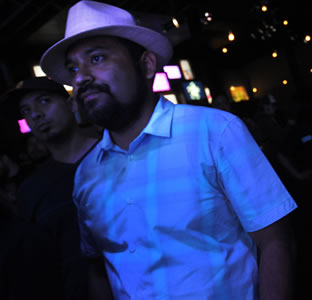 Share this Story
(July 23, 2013) -- UTSA Assistant Professor Marco Cervantes has an impressive resume. He is a professional musician, better known by his stage name of Mexican Stepgrandfather, and he has performed at multiple venues across Texas including South by Southwest.
In 2009, he was named the Best Hip-Hop Artist by the San Antonio Current and was awarded a Ford Foundation Dissertation Fellowship by the UTSA Department of English. Now, Cervantes can add visiting scholar with the Institute of Texan Cultures to his list of distinctions.
This spring, Cervantes, a Mexican-American Studies professor in the Department of Bicultural-Bilingual Studies, became the ninth UTSA professor to join the Visiting Scholar Program at the Institute of Texan Cultures (ITC). Also a member of the ITC Faculty Advisory Committee, Cervantes was chosen based on his unique research into African-American and Mexican-American cultural fusions. He is particularly interested in the blending of Mexican-American and African-American music in Texas from the 1930s to present day.
"We try to match the needs we have as a museum with the scholar's needs and their interests," said Lupita Barrera, director of education and interpretation at the museum.
"To take talents and gifts that certain people bring to us, meld them together and see the development of a product is really, really magical."
As a result of his work with the museum, Cervantes will offer "Teaching through Music and Culture" at the museum's Summer Institute for Education. The three-day symposium for K-12 teachers will include a variety of discussions and interactive sessions such as songwriting, which will center on the use of music to help educators teach other school subjects.
"We will use music as a tool to teach memorization and critical thinking within the curriculum," said Cervantes. "My experiences in cultural studies and music studies, and Christian Clark from the ITC Education and Interpretation Department with his expertise in education -- we've been working on ways to incorporate cultural studies into history, social studies, fine arts and geography."
"I'm looking at the history of African-American and Mexican-American musical fusion," added Clark. "I'm talking about music, and I'm giving a history starting from the 30s ending in the 2000s covering a range of groups. While I'm talking about these groups, I'm also talking about ways that these groups and the music can tell us about history, social studies, fine arts, geography, migration patterns and economic patterns."
More than 25 teachers from various grade levels and across the state are registered to attend the symposium, which closed registration after the second day because of its popularity.
A free concert from 6 to 8 p.m., Thursday, July 25, will conclude the three-day symposium and feature performances from local musicians including Cervantes. According to Cervantes, the concert will celebrate both the end of the conference and demonstrate the concepts introduced throughout the symposium.
"To see the teachers receive the product, that's a whole other dimension of gratification," said Barrera. "But, that's the whole purpose of the Visiting Scholar Program. It's to bring those talents together and to produce products that are new and innovative and engaging.
"The ITC is making great strides and making more connections between the museum and the university at different levels. We want more students here, and absolutely we want to work with scholars and staff."
A grant awarded to the museum allowed Cervantes to lighten his teaching load during the spring semester and have adequate time to work collaboratively with the museum's education and interpretation staff.
"It has been really wonderful working with Marco," said Christian Clark, ITC senior program coordinator. "His research is really interesting, and he has a lot to offer in terms of a knowledge base. He is a very accomplished scholar and has a very impressive background."
In the future, Cervantes hopes to continue to work with the ITC to create a music archive system and a music exhibit.
"I've talked to [the ITC] from the beginning about working on archiving music, interviews -- keeping a lot of the history here in San Antonio alive through the ITC," said Cervantes. "There's a whole lot of history here that's sort of swept under the rug because there really isn't a preservation of it."
Cervantes' proposed music collection would join the museum's oral history collection and the 3.5 million historic photographs from the UTSA Libraries Special Collections that are housed at the museum.
For more information, visit the Institute of Texan Cultures website.