UTSA officially joins Conference USA on July 1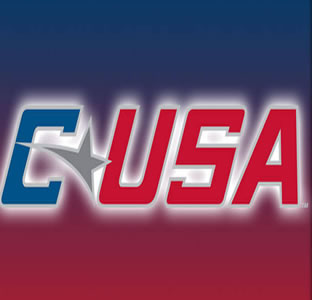 Share this Story
(July 1, 2013) -- UTSA officially became a member of Conference USA (C-USA) on July 1. The Roadrunners join 16 schools in nine states as full members.
The Roadrunners are coming off a successful 2012-13 campaign in their lone year as a member of the Western Athletic Conference (WAC). UTSA won this year's WAC Commissioner's Cup, which is awarded to the school that performs the best in each of the league's 19 men's and women's championships. The department's winning point total of 90 was bolstered by WAC Championships in indoor track & field and baseball (tournament). The Roadrunners also captured 12 individual conference titles (nine men's track and field/three women's track and field) and had a total of 137 WAC All-Academic honorees.
That came on the heels of a 21-year run as a member of the Southland Conference. UTSA won a total of 58 Southland Team Championships after joining the league in 1991-92 and 37 of those came in its last dozen years. UTSA also won two Commissioner's Cups (2007-2008 and 2010-2011) and it boasted a conference-leading 30 Student-Athletes of the Year since the circuit started handing out the award in 2002-2003.
Since 1995, C-USA's dedication to excellence has been the league's guiding principle and remains a common thread today and for a promising future. Throughout the changes during its history, the conference has held onto its strong foundation that reflects its national presence. Its 16 schools, including UTSA, have compiled numerous athletics and academic achievements and, additionally, the C-USA footprint has grown by nearly 20 percent, while providing the geography that allows for a divisional scheduling model that will be beneficial to the student-athletes, fan-friendly and cost effective.
C-USA sponsors competition in 20 sports — nine for men (baseball, basketball, cross country, football, golf, soccer, tennis, indoor and outdoor track and field) and 11 for women (basketball, cross country, golf, rowing, softball, soccer, swimming & diving, tennis, indoor and outdoor track and field, volleyball).
The league sponsors numerous academic awards, including the Commissioner's Honor Roll and the Commissioner's Academic Medal, indicative of outstanding achievement in the classroom, in addition to sport specific all-academic teams.
C-USA performers have achieved great success in competition, placing the league among the top leagues in the nation.
The league enjoys significant television exposure through partnerships with FOX Sports Media Group, CBS Sports Network and ESPN. The multi-tiered selection process that is rooted in partnering with all three networks has substantially increased the number of national and regional appearances for football, men's and women's basketball and all other conference sports.
As one of the largest Football Bowl Subdivision conferences in 2013, C-USA membership will include institutions in 12 of the Top 65 television markets, eight in the Top 40 and four in the Top 25 media markets according to Nielson. C-USA home markets next year will include more than 14.5 million TV households.
>> For more information, visit the UTSA Athletics website.
>> Read more about UTSA joining Conference USA.