UTSA program prepares students to work at NSA and other data centers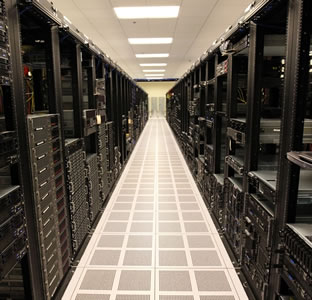 Share this Story
(July 25, 2013) -- In the last decade, Texas has been a popular location for companies to dedicate large buildings to house major computer systems known as data centers. In particular, San Antonio has grown as a destination for data centers over the last five years because of favorable weather conditions and the low cost of power.
In response to the growing need for highly trained data center employees, The University of Texas at San Antonio (UTSA) now offers a minor in network and data center management through its College of Business.
Microsoft, Rackspace, Lowe's, USAA, Christus Health, University Health System, Frost Bank, Capital Group, Valero, Chevron, Tesoro, NuStar Energy, Zachry Corp. and CyrusOne are just a few of the many companies that host stand-alone data centers in San Antonio.
"Running a data center takes more than knowledge of computers," said Glenn Dietrich, UTSA professor and interim chair of the Department of Information Systems and Cyber Security. "Without experts in electricity and power management, heating, cooling, facilities management and construction, cyber security, disaster recovery and other skills, companies can't adequately maintain and protect their data."
In 2010, the National Security Agency (NSA) approached UTSA to help build an academic program that would prepare students to have the exact skill sets to work at any of the NSA data centers across the country including the one in Northwest San Antonio. The curriculum was put in place and first offered as a minor in fall 2012.
The network and data center management minor is structured to provide the educational basis for being successful as a data center manager or network administrator. The curriculum is divided into four major knowledge areas: networks and networking protocols, facilities such as electrical power and air-conditioning, network security and operations. Topics covered include cloud computing, physical and cyber security, access control, project management and disaster planning.
The NSA has a similar relationship with the University of Utah, LA Tech and Texas A&M-College Station. UTSA was one of the first universities that NSA approached, and is one of the pioneers in offering the data center management degree program as a minor.
"We sought a partnership with UTSA because of the school's desire and ongoing efforts to build stellar, high-quality programs in this field," said Harvey Davis, director of installations and logistics at NSA. "From an intern-recruiting perspective, we look to these schools as a potential pipeline for resources."
In 2009, the NSA designated UTSA a "Center of Academic Excellence in Information Assurance Research" based on the research of business, computer science and engineering faculty. This designation has been awarded to only 47 institutions nationwide. UTSA also has been designated a "Center of Academic Excellence in Information Assurance Education" since 2002, based on the curriculum in the College of Business.
Nationally ranked and recognized, the UTSA College of Business is accredited by AACSB International and enrolls 5,700 students. The college is dedicated to raising its academic profile to become one of the best business schools recognized for developing "Knowledge for a New World."