UTSA hosts TATE summer program for 30 transferring engineering students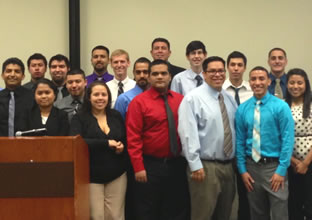 Share this Story
(July 19, 2013) -- Thirty students recently completed the summer component of the Transfer Academy for Tomorrow's Engineers (TATE) program. The intensive six-week summer bridge program is UTSA's second group of TATE transfer students. A collaborative initiative between UTSA and Alamo Community Colleges (ACC), TATE was created to promote a seamless transfer of community college students into the UTSA College of Engineering.
Currently in year two of the three-year program, the summer program culminated with a celebration of the students' achievements at the UTSA Downtown Campus. As part of the program, students were tasked with a group research project, which dealt with engineering issues concerning weather and climate. This posed a unique challenge for students, who did not immediately associate engineering with climate.
The 30 students divided in groups of nine presented their research and showcased a video webcast that supported their research projects. The program was led by UTSA faculty members Hatim Sharif and John Joseph in the College of Engineering and Lindsay Ratcliffe and Gregory Hazleton in the UTSA Writing Core program. Carmen Fies with UTSA Interdisciplinary Learning and Teaching and Darrell Balderrama with UTSA P-20 Initiatives supervised the participants.
"I always knew that I wanted to be an engineer but never really knew what that meant," said a Northwest Vista College student. "It wasn't until I completed the TATE program that I gained a better understanding of engineering as it relates to the world."
A new addition to this year's program was the recruitment of students from surrounding South Texas community colleges. The cohort of transfer students consisted of students from San Antonio College, Palo Alto College, Northwest Vista College, St. Philip's College, Laredo Community College, Del Mar College and Lone Star College.
"The TATE program really provides students with a great opportunity to enhance their technical writing and research skills, which are essential for student success," said Balderrama, director of retention programs in the UTSA Office of P-20 Initiatives.
------------------------------
The TATE program is administered by the Office of P-20 Initiatives and the College of Engineering at UTSA. For more information, contact Darrell Balderrama at 210-458-4284.