UTSA students attend Conference on Volunteering and Service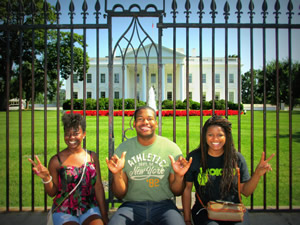 Share this Story
(July 2, 2013) -- Early last week, nearly 5,000 people crossed political, racial, religious, age and geographic boundaries to come together during the 2013 Points of Light Conference on Volunteering and Service in Washington, D.C. Nico Cousby, Jantel Fontenot and CaShonda Henderson, executive members of the UTSA Volunteer Organization Involving Community Education and Service (VOICES), and Cristina Dominguez, UTSA program coordinator of volunteer services, were among the participants at the global conference.
"Service is the greatest unifying force in America," said Neil Bush, chairman of the Points of Light organization. Throughout the week, political leaders, activists, service leaders and businesses came together to show that notion in action.
Conference participants were able to hear conservative talk show host Bill O'Reilly, liberal political strategist Donna Brazile, Karl Rove, former advisor to President George W. Bush, David Plouffe, former advisor to President Barack Obama, and Valerie Jarett, current senior advisor to the President, speak on the theme of service.
In a later panel, the students heard from a panel of leaders from diverse backgrounds including Congressman Joaquin Castro, representatives from Teach For America, FEED, and the Corporation for National and Community Service. John Legend, Grammy-winning R&B artist and education activist, closed the ceremony with a performance and remarks.
The UTSA students attended informational sessions on service-learning, leadership, civic engagement and empowering volunteers taught by a variety of experts. During the week in Washington, they also participated in two service projects. They helped package 1 million "All American Mac n' Cheese" meals for the Capital Area Food Bank and joined other organizations at the National Mall for the Servapalooza Service Festival, where they spruced up national monuments through planting and gardening efforts.
The trip was possible through funding by the UTSA Student Affairs Transformation Fund Grant.
"The Transformation Fund Grant gives a student with any background or status the opportunity to grow and learn," said Henderson, who was thrilled to visit the nation's Capitol for the first time.
This fall, VOICES will celebrate 20 years of service on the UTSA campus. Learn more at the VOICES website.
Learn about volunteer opportunities at the UTSA Volunteer Services website, visit the Volunteer Services office in H-E-B University Center Room 1.216 on the UTSA Main Campus or email volunteer@utsa.edu.