UTSA institute helps launch Colombia small-business development center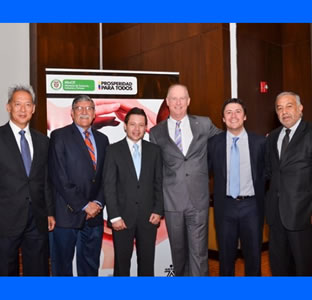 Share this Story
(Aug. 6, 2013) -- Last month, UTSA's global reach focused on Bogota, the thriving eight-million-population capitol metropolis of new U.S. free-trade partner Colombia, and an example of a society emerging successfully from its past drug-crime fueled insecurity. Education and economic development policy were on the agenda for the UTSA delegation, led by President Ricardo Romo.
While UTSA representatives was in Bogota, the Colombian Senate convened an international educational forum for input on best practices to reform its federal education law. UTSA officials were invited to give testimony, sharing UTSA's experiences as a young and highly ranked institution. Times Higher Education ranks UTSA among the top 100 universities in the world under 50 years old.
Accompanying President Romo were Jude Valdez, vice president for community services; Mauli Agrawal, interim vice president for research; Harriett Romo, director of the Mexico Center and the Bank of America Child and Adolescent Policy Research Center (CAPRI); and Robert McKinley, associate vice president for economic development.
U.S. foreign policy in Latin America is recalibrating its approach to find a better balance for security and prosperity interventions. As gains are made to reduce crime and insecurity, the emerging middle class is seeking more opportunities in education and economic development.
UTSA is growing its reputation by addressing issues such as Hispanic higher education attainment, mainstreaming first-generation college students, and building a strong applied research and innovation profile as well as world-class economic development programs. These themes resonate with Latin American universities and governments that want to tap UTSA's experience.
While in Bogota, the UTSA delegation attended the opening event of UTSA's four-month certificate program for Colombian economic development professionals. The Small Business Development Center (SBDC) program will help Colombian small businesses compete in global markets.
Under the U.S. State Department Pathways to Prosperity initiative, UTSA has been engaged to transfer the SBDC methodology and work with economic ministries of 15 Western hemisphere nations to date. These new networks of SBDCs become partners and market distribution channels for Texas and U.S. small businesses to expand trade. In South America, UTSA is engaging with Colombia, Peru and Brazil.
>> Learn more about UTSA's role in building the President's Small Business Network of the Americas initiative.
Immediately following opening speeches, the certificate course began, led by the UTSA International Trade Center Director Cliff Paredes, and senior trade specialist Monica Alcoz. Enrollment was 160 in the Bogota course; the following week another 120 enrolled for the course in Cali. UTSA courses scheduled for Medellin and Barranquilla next January are expected to reach 400-500 economic developers across Colombia.
The UTSA delegation also convened with Bogota's Ministry of Education and the ASCUM, Colombia's higher education association, which is similar to the American Council on Education. At the meetings, UTSA's profile and interests were showcased to develop strategic alliances with top Colombian universities. Attracting top Colombian graduate students, faculty and researchers in STEM fields, business and education disciplines was a key focus in addition to developing administrator connections.
On the second day of its trip to Colombia, UTSA officials attended the Senate's International Educational Forum, led by Senator Efrain Torrado, who chairs the education oversight committee of congress (Comision Sexta). The forum welcomed 200 higher education leaders, was nationally televised in Colombia and was positioned as the opening volley for education reform legislation as a priority for this year's Colombian legislature.
At the forum, UTSA offered nearly two hours of testimony on its rapid growth and its goal of becoming a Tier One university through high-quality faculty and programs, research growth and industry collaboration, a modern campus community and student retention and success. Related themes also were presented by the Ministry of Education, the Colombian student financial aid authority, the national collegiate sports agency, and Colombian university rectors and students.
>> To learn more about UTSA's delegation to Colombia, email Robert McKinley.