Help register our community to vote: Become a volunteer deputy registrar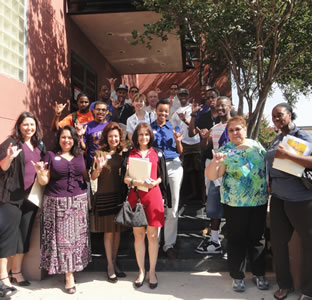 Share this Story
(Aug. 14, 2013) -- As part of the city project SA Votes, UTSA students, faculty and staff can help serve the San Antonio community by registering citizens to vote after volunteer deputy registrar training is complete.
As a volunteer deputy registrar, participants further the university mission of public service and community engagement -- and can participate directly in a nonpartisan campus wide voter registration drive.
Faculty and staff members who participate in the training will be provided with "Register Here to Vote" signs to post outside their offices. Eligible faculty, staff, students or campus visitors can stop by these offices to register to vote.
Volunteers must attend one 30-minute training session at the Bexar County Elections Warehouse, 1381 Brazos. UTSA will provide free shuttles to and from two Aug. 20 training sessions; pickup and return drop-off will be at the Convocation Center on the Main Campus and at the Frio Street curve at the Downtown Campus.
The training session schedule is:
Tuesday, Aug. 20, 9:15 a.m. (Departure) -- UTSA shuttle (30 seats) 10 a.m. class
Tuesday, Aug. 20, 5:15 p.m. (Departure) -- UTSA shuttle (30 seats) 6 p.m. class
UTSA employees can participate during regular work hours if the time is made up within a reasonable period of time; employees must make arrangements with a supervisor. Additionally, employees can use vacation time for training during work hours, request leave without pay or participate outside of work hours.
>> To reserve a seat for the required 30-minute training session (and a seat on a shuttle), calling the UTSA Office of External Affairs at 210-458-4009, and leave your name, email address and phone number.
----------------------------
The SA Votes project is part of SA2020, a community-wide effort organized by Mayor Julian Castro to revitalize San Antonio and chart the city's course for the next decade as a world-class city with a small-town feel. Key focus areas are arts and culture, community safety, downtown development, economic competitiveness, education, family well being, government accountability and civic engagement, health and fitness, natural resources and environmental sustainability, neighborhoods and growth management, and transportation.