Drury University student values UTSA African-American Literature and Cultures Institute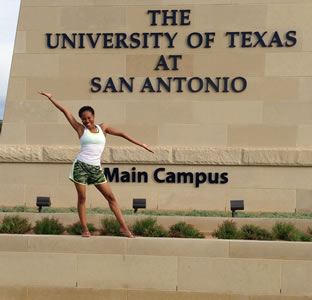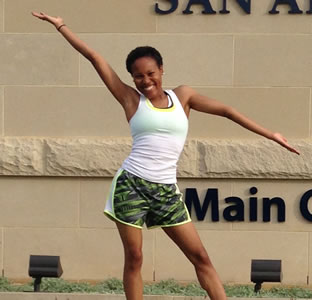 Share this Story
(Aug. 27, 2013) -- This past June, I was a fellow in the African-American Literature and Cultures Institute at The University of Texas at San Antonio, where I covered black studies materials, participated in graduate school preparation workshops, and interacted with scholars and students from across the country.
The program also afforded me a scholarly excursion to visit New York City. The program encourages students to become professors.
The selection process was intense and entailed writing two short essays about my commitment to diversity and my interest in working with African-American literature, providing two reference letters, and selecting and working with a dedicated mentor through the graduate school application process and the completion of a mentor-directed research project. Out of over 50 applications, I was fortunate to be one of six fellowship recipients. Three of us came from PWIs, or predominantly white institutions, the other three hailing from HBCUs, or historically black colleges or universities.
Initially, I found class discussions to be overwhelming. Not because I'm unaccustomed to challenging coursework and material, but because I was unsure of how to present my creative domain of communication studies to the group. I would constantly think back to my time in classes such as Foundation of Communication Theory, Rhetorical Criticism or Intercultural Communication at Drury and reflect on how to critically analyze artifacts and convey the results of that analysis.
After a while, class discussions became more interesting and fluidly interactive. UTSA professors were impressed by my oral presentation skills, knack for persuasion and knowledge of 20th-century philosopher Kenneth Burke, especially at the undergraduate level. My Drury education had prepared me to engage with some of the best African-American students in the country.
While I am a communication studies major, Drury has nourished my love for learning for the sake of learning and has encouraged me to explore many facets of psychology, religion and history in depths that only a liberal arts institution can offer. While my fellowship has given me a scholarly toolbox, I feel it is my liberal arts education that has given me the true diverse education that will allow me to thrive in an ever-changing environment in the 21st century.
Confidence and intellectualism in the academic and professional essence sum up my fellowship experience.
After Drury, I plan to attend graduate school to eventually earn a Ph.D. in communication, which I will use to teach at the college level -- just like my Drury professors who have given me so much.
--------------------------------
This story first appeared in the Springfield News-Leader on Aug. 26, 2013.