UTSA welcomes more than 5,400 new students on first day of classes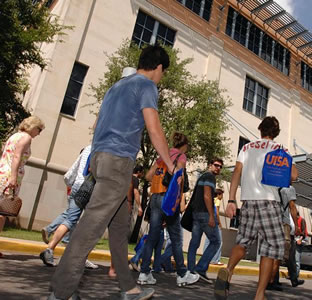 Share this Story
(Aug. 28, 2013) -- Nearly 3,500 incoming freshmen and more than 1,900 transfer students – more than 5,400 new UTSA students -- began classes today at the Main Campus and Downtown Campus.
Enrollment at the UTSA campuses is more than 30,000 with students from all 50 states, three U.S. territories and more than 85 countries.
Kelsey Badillo, a freshman in business management said, "Everyone here is nice and friendly. It's great to be here at UTSA, and I'm looking forward to the year. I'm most excited about the networking and getting involved and getting to know people and the school more."
Robert Rivas, a biology lecturer and supervisor of the introductory biology lab, said, "Ready or not, here it comes! In my morning class, which starts at 7:30, I have 50 students enrolled and 49 showed up today, so that's a good start. I'm excited about the new people, new TAs and new classes."
Biology lecturer John Ashinhurst is glad to see a new crop of students. "I just got here, and I'm going to teach my first class in about an hour, and I'm looking forward to it."
UTSA provides access to excellence for a diverse group of students. Many are high achievers who are the first in their families to attend a college or university. The university ranks No. 5 in the nation in the number of undergraduate degrees awarded to Hispanics, according to Diverse Issues in Higher Education magazine rankings.
UTSA has been rated one of the top 500 universities in the world according to the prestigious Academic Ranking of World Universities, an annual study prepared by Shanghai Jiao Tong University. The Academic Ranking is one of the top measurements for the performance of universities worldwide.
UTSA also is ranked among the world's top 100 universities under 50 years old and is one of just 70 U.S. institutions ranked among the top 400 universities worldwide by Times Higher Education, another leading world ranking measurement.
------------------------------
Information for this story was contributed by Jesus Chavez.