UTSA football pep rally and watch party are at University Center Aug. 31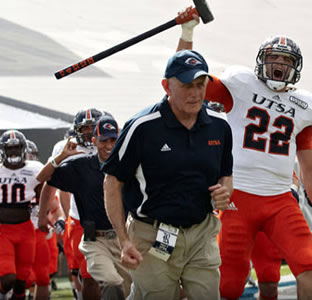 Share this Story
(Aug. 30, 2013) -- UTSA will open its third campaign and first as a full-time member of Conference USA and the Football Bowl Subdivision on Saturday night, Aug. 31, when it plays at New Mexico. The game will be broadcast on CW 35 TV.
>> The official UTSA watch party hosted by the Student Government Association will start with a pep rally at 6:30 p.m. at Chili's Too in the University Center, followed by the watch party. There will be free food and pom-poms for students while the supplies last.
The kickoff in the inaugural meeting between the two programs is 7 p.m. at University Stadium in Albuquerque. The Roadrunners are coming off an 8-4 season in what was their first and only year as a member of the Western Athletic Conference.
UTSA, which will play three of its first four games on the road this fall, posted four victories away from the Alamo City last season after failing to win in four such tries during its inaugural 2011 campaign. The Roadrunners are 12-10 overall in their first two seasons of play, including 4-6 in road outings.
>> Read more at the UTSA Athletics website.