UTSA policeman Hector Barrera would light up a room with positive attitude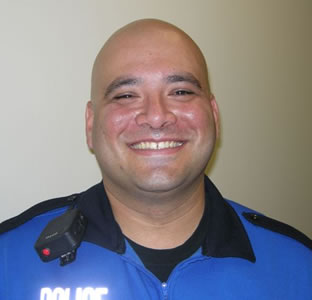 Share this Story
(Aug. 21, 2013) -- Yesterday, UTSA lost a great police officer, Sgt. Hector Barrera. He was a friend to the UTSA community and always had a big smile for everyone he met. He was a team player who would light up a room with his positive attitude and his laugh. Barrera died Tuesday afternoon in a traffic accident on his way to work.
According to his fellow officers and co-workers, Barrera was a genuinely nice guy liked by all of his co-workers and those who knew him in the UTSA community. He was instantly recognized across the campus by his smile and approachability.
Barrera worked seven years in the UTSA Police Department.
"Sgt. Hector Barrera always had a positive attitude," said UTSA Chief of Police Steve Barrera. "He demonstrated exemplary service, professionalism and dedication to excellence and was a great friend to the UTSA community and a role model to many. Our thoughts and prayers go out to his loved ones."
According to Michael Heidingsfield, UT System director of police, "Sgt. Barrera was a father, a son and a husband as well as a brother to those of us in Texas law enforcement. His commitment, dedication, good will and zest for life should serve as an inspiration to us all. The University of Texas System Police Department is better for the contributions that Sgt. Barrera selflessly shared with us."
Hector Barrera joined the UTSA Police Department in May 2000 as a parking controller and became a communications operator with the department in September 2001. He enrolled in the UT System Police Academy in January 2003 and was commissioned as a police officer in June 2003.
He served the UTSA Police Department until August 2004, then joined the Zapata County Sheriff's Office from 2004 to 2005 and the Starr County Sheriff's Office from 2005 to 2006. Barrera returned to the UTSA Police Department in November 2006. In October 2008, he was promoted to corporal, and in September 2012 was promoted to sergeant.
He was a member of the UT System Rapid Response team and the UTSA Honor Guard.
------------------------------
Services for Barrera will be conducted by Porter Loring Mortuary, 2102 North Loop 1604 East. A public viewing will be 4-7 p.m., Friday, Aug. 23; there will be a rosary at 7 p.m., Friday. A mass will be 10 a.m., Saturday, Aug. 24 at St. Anthony Mary Claret Catholic Church, 6150 Roft Rd., San Antonio, Texas 78253; police honors will be conducted at 11 a.m. For more information, contact Lt. Stephanie Padula, UTSA Police Department, at 210-458-4775 or 210-232-2974.