UTSA Roadrunner Days: New Student Involvement Fair offers opportunities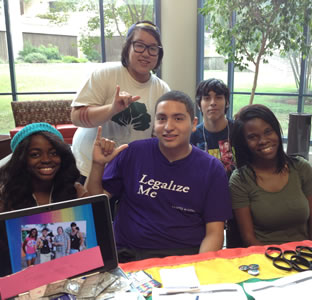 Share this Story
(Aug. 27, 2013) -- New and returning students are attending the UTSA New Student Involvement Fair, which is 10 a.m.-2 p.m., Tuesday, Aug. 27 in the University Center on the Main Campus. The fair is a great way for new Roadrunners to meet representatives from registered student organizations to learn about how to get involved on campus and make the most of the university experience.
At the involvement fair, student organizations set up tables to showcase projects and activities and to provide a view of what they have to offer students. UTSA has nearly 300 registered student organizations in a broad range of interests.
Student organizations can help students make a difference at UTSA through campus and community projects, build leadership skills, connect to campus life and work with students who share the same ideals, beliefs and interests.
According to David Bidde, a freshman business major, "It's good to have this event. I was interested in learning about all of the clubs UTSA has to offer. I'm going to choose from several of the groups I'm interested in."
"The involvement fair is a great place to meet people and network," said Anthony Chase, a mechanical engineering major. "I belong to the Victory in Praise gospel choir, and we have a lot of fun singing. We have members from UTSA and the community. Here at the fair, I'm learning a lot about groups I didn't even know about."
San Antonio native and UTSA mechanical engineering major Alex Lugo said, "This is pretty cool. There are a lot of groups here. I'm going to join a Christian group. It's great to experience new things, and it gives you an opportunity to experience college life."
>> Students can log in to RowdyLink, create a profile to connect with the student organizations on campus and learn about events throughout the year. For more information about getting involved on campus, email Student Activities.
------------------------------
Information and photos for this story were provided by Jesus Chavez.