Meet a Roadrunner: UTSA's Madeline Cortez will combine science and art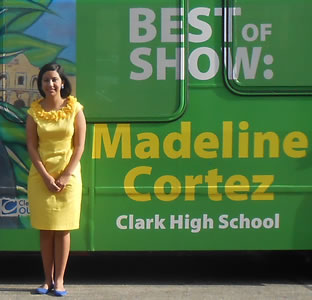 Share this Story
(Aug. 14, 2013) -- Meet incoming freshman Madeline Cortez.
Earlier this summer, Cortez won Best of Show in the 2013 VIA Youth Art Contest, trumping more than 5,500 entries from K-12 students across San Antonio. For the next year, her artwork will be featured prominently on the side of two active VIA buses.
"Seeing my art and name on such a large scale on public display was a surreal experience for a young artist such as myself," said Cortez. "It was so exciting, and it gives me great hope for my future as an artist."
Her submission was inspired by how much this year's theme, "Go VIA, Go Green," resonated with her two biggest interests.
Madeline is passionate about the natural sciences, especially the mysteries of the human body. At a young age, she was exposed to a variety of medical experiences after being diagnosed with postural orthostatic tachycardia syndrome (P.O.T.S.) a debilitating, long-term illness. The treatments she underwent gave Madeline a renewed appreciation for science.
The human body fascinates her. Entering college, she knew she wanted to learn more about the way it works. Madeline said she had to find a way to reconcile her two loves, because she didn't want to have to choose one over the other. Fortunately, she found just the thing.
"For a while, I was worried, then I discovered the existence of biomedical illustration," she said. "I was beyond thrilled that there was such a perfect career option for me to pursue."
When she begins her academic career at UTSA this fall, Madeline will major in biology with a minor in art. Her goal is to one day provide illustrations for biomedical research and textbooks, thereby bridging the gap between her two passions.
------------------------------
Do you know someone at UTSA who is shaping her or his future? Email us at social@utsa.edu, and we will consider your submission for an upcoming installment of Meet a Roadrunner.