UTSA student move-in Aug. 23-24 kicks off fall semester and Roadrunner Days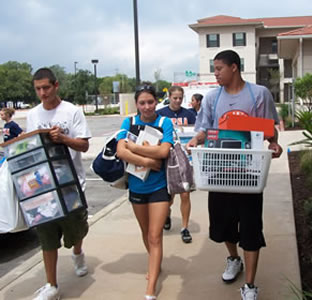 Share this Story
(Aug. 15, 2013) -- Students and their families will unload all the comforts of home as they move into their UTSA student housing accommodations Friday, Aug. 23 and Saturday, Aug. 24. New residents will move into one of three residence facilities on the UTSA Main Campus -- Chaparral Village, Laurel Village and the newly built San Saba Hall -- before classes begin Wednesday, Aug. 28.
With the addition of the students moving into the privately operated Chisholm Hall and University Oaks facilities, the number of students living on campus this fall will be 4,300.
While some students moving in are returning from previous semesters, many more will be first-time college students experiencing life away from home for the very first time. To make this transition as smooth as possible, the Office of Housing and Residence Life will be on hand throughout the move-in weekend to assist in a variety of ways. Additionally, student, faculty and staff volunteers from a variety of organizations and departments will be on site to assist newcomers.
"We want to ensure that UTSA residents have a fantastic college experience," said Daniel Gockley, director of housing and residence life. "As UTSA moves toward Tier One status, it's important that new and returning students have Tier One residence facilities to accommodate them."
UTSA's new San Saba Hall will house 618 students and includes state-of-the-art amenities for its residents. The hall houses three themed, special-interest community options in its south tower: the Engineering Living Learning Community, Leadership and Service Lifestyle Floor and the Honors College and Terry Scholar Community.
For more information, visit the UTSA Housing website.
------------------------------
Student move-in weekend is the first official event of Roadrunner Days, UTSA's series of back-to-school events and activities aimed at giving students the opportunity to preview campus life and make lasting connections with their peers. UTSA Roadrunner Days continues through the first week of class and ends Friday, August 30.