UTSA Student Organization Council hosts mixer for club presidents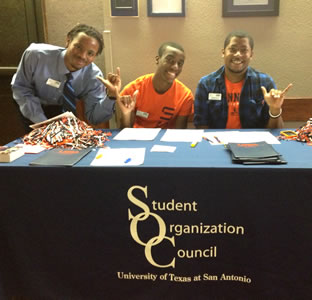 Share this Story
(Aug. 30, 2013) -- The UTSA Student Organization Council hosted a mixer at 12:30 p.m., Friday, in the University Center Denman Room, where the presidents of UTSA registered student organizations networked and talked about their plans for the new academic year. There are nearly 300 UTSA registered student organizations.
"This event is going well, and the food is fantastic," said Malcolm Ramey, a senior communication major representing the National Panhellenic Council and Phi Beta Sigma. "I've made some new connections with other fraternities."
Crystal Castro, a sophomore international business major, was at the mixer representing the Anime Club. "I've met a lot of the presidents of other clubs, and it has been a whole lot of fun," she said. "Our club sort of started out as a Japanese nerd-culture club and evolved into the Anime Club. There is another group kind of like us, but interested in American nerd culture. They're called the Nerd Fighters, and we're trying to coordinate an event together."
For more information, email Student Organization Council at soc@utsa.edu.
------------------------------
Don't miss these UTSA Roadrunner Days events to close out the opening week of the new academic year:
At 7 p.m., Friday, Aug. 30, the UTSA women's soccer team will take on Sam Houston State at the UTSA Park West Athletics Complex. View the full UTSA Women's Soccer schedule.
From 9 to 11 p.m., Friday, Aug. 30, it's the UCinema Nights series in the University Center Retama Auditorium (2.02.02) on the Main Campus, kicking off with the summer blockbuster, "Now You See Me." The University Center Program Council has planned a semester of free Friday night movies, all selected by students. There also will be free popcorn and other giveaways.
To close out UTSA Roadrunner Days, don't forget the official UTSA watch party. Hosted by the Student Government Association, the event will open the UTSA football season starting with a pep rally at 6:30 p.m., Saturday, Aug. 31 at the University Center paseo, followed by the official UTSA football watch party at 7 p.m. in Chili's Too in the University Center. There will be free food and pom-poms while the supplies last. Read more about UTSA Football at the UTSA Athletics website.
------------------------------
Photos and information for this story were provided by Jesus Chavez.