UTSA Downtown Campus hosts Pachanga in the Plaza event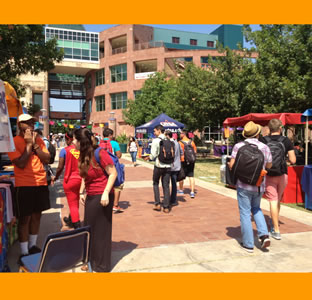 Share this Story
(Aug. 29, 2013) -- UTSA students, faculty and staff enjoyed Pachanga in the Plaza from 11 a.m. to 1 p.m., Thursday at Bill Miller Plaza. There were free food, good music and giveways -- and an opportunity for students to connect with registered student organizations.
Students affiliated with the organizations were set up in tents with information tables to inform passersby about how to get involved on campus.
Sarah Gallup, a psychology and pre-med major, is president of the group Be A Responsbile Roadrunner. "I like that there are a lot of organizations represented here today," she said. "In my group, we educate students about how to stay safe on campus. I'm here to promote the group today. We sponsor lots of events like Campus Crawl and Party on the Paseo, and we help students get involved on campus."
Conor Harvey, a public administration major and SGA Downtown Campus affairs chair, was at the event to represent the UTSA Student Government Association. "I like the music, food and meeting new people, and the whole UTSA environment," he said. "I'm giving people info on SGA and telling them about our Facebook and Twitter sites, and getting their emails so they can get our newsletters."
"Pachanga" is a Spanish word originating in Cuba, which translates as "dance party."
>> Learn more about student organizations at the UTSA Student Activities website.
-------------------------------
Information for this story was contributed by Jesus Chavez.