UTSA College of Sciences hosts research poster presentations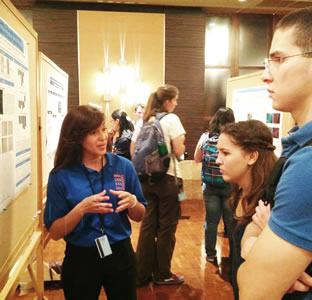 Share this Story
(Aug. 16, 2013) -- The UTSA College of Sciences recently hosted a poster session featuring more than 50 students presenting summer research projects they conducted in the laboratories of their UTSA faculty mentors.
Participants represented seven UTSA training programs that aim to increase the number of underrepresented minorities pursuing degrees in the STEM fields: science, technology, engineering and math.
The programs included PAESMEM, MARC, MBRS-RISE, WSRTP, PREP, LSAMP and McNair Scholars.
Kendra Trujillo was one of 10 students participating in the inaugural PAESMEM/College of Sciences Summer Research Experience. The diverse group included students from Puerto Rico, Massachusetts, Mississippi, California and Texas.
Trujillo worked in the laboratory of Richard LeBaron investigating how proteins interact with different cell lines including cancer cell lines.
"It was wonderful and I am very grateful for the opportunity," said Trujillo. "I went in with very little laboratory experience and came out more knowledgeable and confident in my abilities as an individual."
The junior biochemistry major from the University of Texas at El Paso is now considering transferring to UTSA to finish her B.S. degree or attending in the future as a graduate student. One other PAESMEM participant is considering a transfer to UTSA.
The PAESMEM/COS Summer Research Experience was partly funded by a $25,000 National Science Foundation grant to UTSA biochemistry professor Andrew Tsin. Tsin received the funding in December 2011 from the White House for his Presidential Award for Excellence in Science, Mathematics and Engineering Mentoring (PAESMEM).