UTSA Gallery 23 art show highlights work of alumna Cornelia White Swann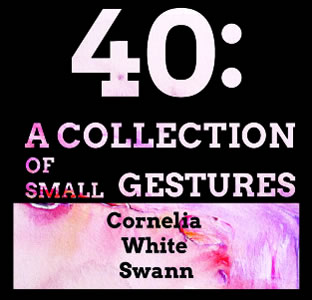 Share this Story
(Aug. 19, 2013) -- Gallery 23 at the UTSA University Center presents "Forty: A Collection of Small Gestures," an exhibition of acrylic and watercolor paintings on paper from UTSA alumna Cornelia White Swann. Free and open to the public, the exhibit at the UTSA Main Campus runs Aug. 19-Oct. 25.
>> Guests can meet the artist at a gallery reception from 3 to 5 p.m., Wednesday, Sept. 11.
"This curiosity evolved with my observations of the urban landscape, the strong architectural lines of a building existing with the organic forms of clouds passing behind it, or the desire paths left by pedestrians seeking the route of least resistance," said Swann. "I'm inspired by psychogeographic theories, the power of color, and the poetics of time and space.
Swann received her Bachelor of Fine Arts degree from the University of Texas at Austin and her Master of Fine Arts degree from The University of Texas at San Antonio. Her works have been included in exhibitions at Ad Hoc Art in Brooklyn, N.Y.; Women and Their Work in Austin, Texas; McDonough Museum of Art in Youngstown, Ohio; Laredo Center for the Arts in Laredo, Texas; and UTSA Satellite Space, cactus bra SPACE and Joan Grona Contemporary Art Gallery in San Antonio. She currently lives and works in San Antonio.
------------------------------
Gallery 23 serves a vital role in creating a vibrant campus community by offering cultural enrichment, enhancing diversity on campus, and providing an educational opportunity to explore the arts. The gallery serves as a professional space to showcase student, staff, faculty, alumni and local artists' works.
Taking its name from its room number, University Center Room 1.02.23, the gallery is a service of the UTSA University Center, an organization in the Office of Student Life in the Division of Student Affairs. Gallery hours are 11 a.m.-7 p.m., Monday-Thursday and 11 a.m.-5 p.m., Friday.