UTSA's S.A. Writing Project invites young writers to Silver Stars game Aug. 6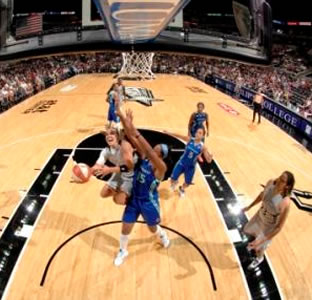 Share this Story
(August 1, 2013) -- UTSA and the San Antonio Writing Project will host "Night at the Silver Stars" on Aug. 6. The event will provide SAWP Young Writers Camp participants, their families and friends with discounted seats to watch the San Antonio Silver Stars go up against the Minnesota Lynx.
Members of SAWP are encouraged to bring friends to the game, which is a part of the Silver Star's "Social Media Night."
Tickets are in limited supply, so purchase them now -- SAWP has only one section of 77 seats reserved. Using the discount code "utsa" will take the ticket price down to a very affordable $10.
In addition to watching the game, students and friends will sit near the court during practice and will meet a Silver Stars player after the game. It is sure to be a memorable night for young writers in San Antonio as they witness WNBA stars such as Jia Perkins and Lindsay Whalen in action.
For more information, email sawp@utsa.edu or reserve your tickets online at the Silvers Stars website.