Meet a Roadrunner: SGA President Zack Dunn's UTSA roots run deep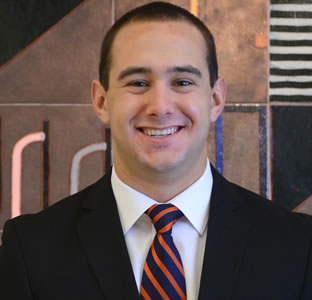 Share this Story
(Aug. 28, 2013) -- Meet Zack Dunn. He's our current UTSA Student Government Association president and serves as the student voice of Roadrunner Nation.
Zack comes from a UTSA family. His mother was an employee of UTSA until 2009, and his sister, Alyssa Dunn, is currently a senior at UTSA.
In addition to the responsibilities that come with representing the student body on and off campus, Zack, a finance major, plays an active role in the UTSA Investment Society, one of the most robust student organizations in the UTSA College of Business.
We asked Zack to share his Top 5 Tips for new UTSA students:
1. Take pride in your university! That means attend university events when possible and DO NOT wear another school's shirt!
2. Get involved. Whether it's athletics, band, Greek Life, student organizations or academic organizations, there is a place for everyone to grow outside of the classroom here at UTSA.
3. Make it a point to talk to your teachers. They are genuinely interested in advancing your education.
4. Maintain a planner to make sure that you can attend all the events you want, be a part of the organizations you want and most importantly, maintain a strong hold on your academics and studies.
5. When possible, rent your textbooks over buying them.
Little known fact about Zack: He was on the varsity wrestling and football teams at San Antonio's Reagan High School.
Something surprising about Zack: He recently was crowned the winner of the Mr. What-A-Man Pageant, a scholarship pageant hosted by the UTSA Black Student Union chapter.
Why Zack loves UTSA: "I love UTSA so much because it is a place where any student can come, regardless of their background or experiences... and they can make a name for themselves. Here at UTSA, the faculty, staff, administration and even one's fellow students can all be relied upon to make one's respective collegiate career truly unique. I also like the fact that we are such a young campus. As opposed to campuses that have been around for many more years, this is a campus that is continually growing and reaching new platforms of success. To me, being apart of that progression is an incredible experience, as I get to play a part in making the traditions that future generations of roadrunners will get to enjoy and take part in!"
------------------------------
Do you know someone whose UTSA roots run deep? Email us at social@utsa.edu and we will consider your submission for an upcoming installment of Meet a Roadrunner.