UTSA newsletters
UTSA magazines
Meet a Roadrunner: UTSA's Dorothy Bauer keeps things moving with precision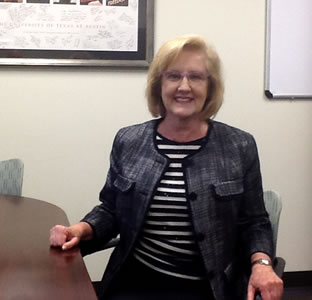 Share this Story
(Sept. 11, 2013) -- Meet Dorothy Bauer, administrative services officer in the UTSA Katz Alumni Center.
A UTSA employee since January 2009, Bauer has served in several positions in the Division of External Relations. She began as an administrative associate II in the Office of University Communications and Marketing, was promoted to senior administrative associate and transferred to the Office of the Vice President for External Relations.
Last summer, she was asked by Laura Murray, interim associate vice president for alumni programs, to transfer to the Katz Alumni Center, where she was promoted to administrative services officer I and where she and Murray are both acclimating to a new work environment.
Bauer earned a B.B.A. and an M.B.A. in personnel management, both from St. Mary's University. She was a lecturer for 14 years at San Antonio College, where she taught business technology classes while working as accounting supervisor and executive assistant at a major insurance company. Then, after serving for a decade as an executive assistant for the CEO of a major national bank, she came to UTSA.
Known for her modesty, efficiency, precision and politeness, she always goes the extra mile when working on projects for administrators and colleagues. Always with a smile, Bauer enjoys serving UTSA and does each administrative procedure by the book.
Bauer takes pride in being very tidy at home and in the office, and gives particular attention to her red 2012 Cadillac, which she washes every week.
"I haven't washed the car this week because of the rain, but that will be a project for the weekend," she said.
------------------------------
Do you know someone who gives back to UTSA? Email us at social@utsa.edu, and we will consider your submission for an upcoming installment of Meet a Roadrunner.