UTSA Institute of Texan Cultures hosts sculpture exhibit by Lauren Browning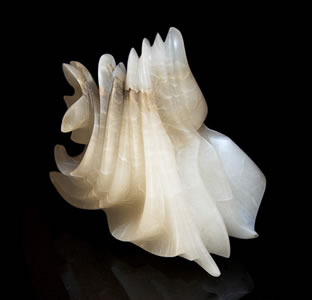 Share this Story
(Sept. 26, 2013) -- The UTSA Institute of Texan Cultures will host an exhibit of sculptures by Lauren Browning through Dec. 31. The exhibition is part of the Texas Contemporary Artists Series curated by Arturo Infante Almeida, curator of the UTSA Art Collection.
According to Almeida, "Trained as a geologist, artist Lauren Browning brings a unique understanding of the properties that describe the physical histories of the stones she carves both before and after she sculpts them into timeless works of art."
"All the sculptures in this series represent such an awakening for me," said Browning. "Creating them has fully revived my passion for the natural beauty of our world as I made the transition from science to art."
"'Acawa' is the Tonkawan Indian word for regaining consciousness," she added. "It is also the name that I've given to the largest sculpture in this series. The abstract sculpture depicts a bird floating quietly on the water, at peace with the way things are, yet prepared to fly off into some new life adventure."
Viewing hours of the exhibit are 9 a.m.-5 p.m., Monday-Saturday, and noon-5 p.m., Sunday. For more information, call 210-458-2300.
----------------------------------------
The Institute of Texan Cultures is on the UTSA HemisFair Park Campus, 801 E. Cesar E. Chavez Blvd., a short distance from the Alamo and the River Walk. For more information, visit TexanCultures.com.