UTSA's Michael Tapia documents lives of 1950s gangs of San Antonio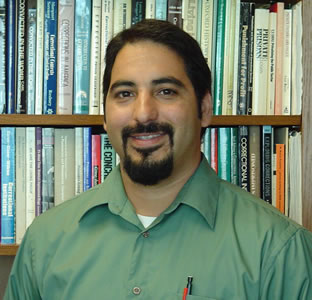 Share this Story
(Sept. 4, 2013) -- Michael Tapia, an assistant professor of criminology in the UTSA Department of Criminal Justice, recently embarked on a mission to document the histories and stories of gangs of a bygone era. Through a start-up funded by UTSA, Tapia has begun an oral history project, "San Antonio Barrio Gangs of the 1950s," dedicated to capturing a moment in time that he feels is often overlooked.
The 1950s in San Antonio were a turbulent time for many Mexican-American youths. In response to rampant poverty and ethnic discrimination, the barrios of the city's West Side saw an increase in the formation of street-level delinquent groups. These were the barrio gangs of San Antonio, formed to protect their turf from outside influence, and they have become social legend among the large working class population who inhabit those neighborhoods in present day.
"San Antonio has a rich history of Chicano street gang activity that dates back at least as far back as the 1940s, perhaps further," said Tapia. "Yet, there's been so little documentation of these important aspects of Mexican-American social history in San Antonio. I feel it's important that we not ignore these crucial stories from our city's past."
Since he began his project, Tapia has identified members from approximately 50 gangs that existed during that time. He has already collected first-hand oral and written accounts, names and photographs from many members of the gangs still alive today. The surviving former gang members are in their late 70s and 80s today. Every day, Tapia fears that he will lose another anchor to this part of history.
"As the surviving participants and first-hand observers age, the opportunity to study the barrio gang elements in the 1950s will soon be lost," said Tapia. "My hope is that I can record accounts from surviving members of most, if not all, the barrio gangs that existed in San Antonio during that period of time."
The project was selected to represent UTSA as its entry for the National Endowment for the Arts in the Humanities category. The accounts that Tapia collects will be archived at the UTSA Institute of Texan Cultures for access to the public.
"We don't seek to glorify the gang life," said Tapia. "However, the formation of these gangs in response to the poverty and discrimination that many of these youths faced is a worthy human adaptation topic to explore, more than 50 years later."
In the meantime, Tapia and his community partners, Jose Gallegos and Juan Mendoza, have begun planning a community event in an effort to raise awareness about the effort. The proposed event will bring together former gang members to share their experiences in 1950s San Antonio while also allowing them to advise visitors about how they ultimately grew beyond the gang life.
"We believe it's important not only to preserve this cultural phenomenon, but to document the many success stories that have come from former gang members," said Gallegos. "Hopefully, these personal stories can prevent youths from engaging in this behavior in the future."
To learn more, contact Michael Tapia at 210-458-2628.