Meet a Roadrunner: Matthew Duarte has nose for news, heart for service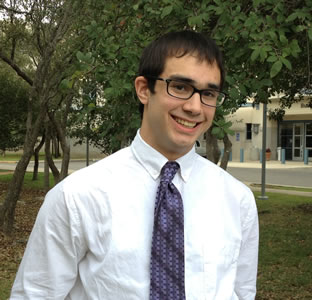 Share this Story
(Sept. 18, 2013) -- Meet Matthew Duarte. He has a nose for news and a heart for service.
As editor-in-chief of The Paisano, UTSA's independent student newspaper, Matt leads a team of student volunteers who report campus, local and world news.
The Paisano begins its news cycle on Wednesdays, when the staff meets in an office in the Bauerle Road Garage to assign stories. The following Monday, the students work well into the middle of the night to ensure the paper makes its press deadline. Then, on Tuesday afternoon, 7,000 copies of the paper are distributed across the UTSA campuses.
"Our team works harder than anyone gives them credit for," he says. "We all love the work we do, and there's no better feeling than seeing the product of that work every week."
Diane Abdo, UTSA adjunct professor and faculty adviser for The Paisano, is quick to point out Matt's own dedication and leadership.
"When Matt had the flu last winter, he arrived at The Paisano office wrapped in a blanket, stood on the front porch and refused to leave until he had read and edited the news section of the newspaper scheduled for printing the next morning."
Talk about dedication!
When the political science/economics double major isn't focused on the day's headlines, he's generally working in the offices of Mayor Julian Castro and U.S. Rep. Joaquin Castro. For the last two years, Matt has helped the elected leaders with their databases of donors and volunteers. He's conducted countless hours of community outreach including phone banking, mailouts and face-to-face meetings.
"I've always had an interest in politics," he says. "Working for the Castros firsthand has taught me more than any teacher ever could have."
Last year, Matt worked behind the scenes as Mayor Castro prepared for his speech at the 2012 Democratic National Convention. The job allowed Matt to travel to Charlotte, N.C., to view the convention first-hand.
Despite two majors, the newspaper and his part-time job, the Eagle Scout and self-proclaimed bookworm occasionally finds time to volunteer with literary groups such as the Alamo Literary Arts Maintenance Organization.
Matt plans to graduate in December 2014. Until then, he'll keep his options open. Perhaps a job in Washington, D.C., will pique his interest. Or, a journalism job may open up. Grad school might also beckon him.
Only time will tell.
------------------------------
Do you know a UTSA student who's committed to community service? Email us at social@utsa.edu and we will consider your nomination for our next installment of Meet a Roadrunner.