UTSA presents Bel Cuore Quartet for free Oct. 25 concert 'Bebop to Bagpipes'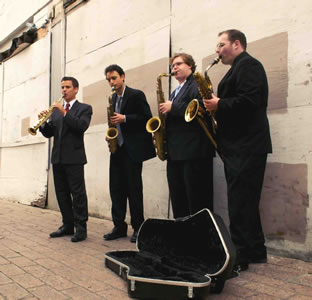 Share this Story
(Sept. 12, 2013) -- The UTSA Department of Music will present Austin-based saxophone group Bel Cuore Quartet (BCQ) for a concert performance of "Bebop to Bagpipes" at 7:30 p.m., Friday, Oct. 25 in the Arts Building Recital Hall on the UTSA Main Campus. The concert, their first of the 2013-2014 season, is free and open to the public.
The Bel Cuore Quartet performs everything from new and exciting music by contemporary composers to arrangements of jazz, pop, classical and rock. The concert offers something for everyone, from lovers of orchestral music and jazz aficionados to advocates of new music.
"Bebop to Bagpipes" will feature performances of a wide variety of music for saxophone quartet. Musical selections include the beloved orchestral piece "Le Tombeau de Couperin" by Maurice Ravel; a rock, funk and minimalist-inspired piece by Steven Snowden; "Drastic Measures" by Russell Peck; and "Fantasy Etudes" by William Albright. The group also will perform an original composition by UTSA music faculty member James Syler. Syler's "Saxophone Quartet" showcases the power, virtuosity and sensitivity that the group can deliver.
The quartet originated in 2007 when the band members met as doctoral students at the University of Texas at Austin. They have played together ever since. Members include soprano saxophonist Rami El-Farrah (UTSA music lecturer), alto saxophonist Sunil Gadgil, tenor saxophonist Spencer Nielsen and baritone saxophonist Michael Hertel.
BCQ has been nominated twice for Best Classical Ensemble by the Austin Critics Table and has performed at SXSW, the Fast Forward Austin Festival and Contagious Sounds in New York. The quartet completed a chamber music residency at the Sibelius Academy in Helsinki, Finland, and recorded "Over the Rainbow and Bach Again" on the Longhorn music label.
For more information, visit the UTSA Department of Music website.