UTSA Employee Occupational Health and Wellness Center has new home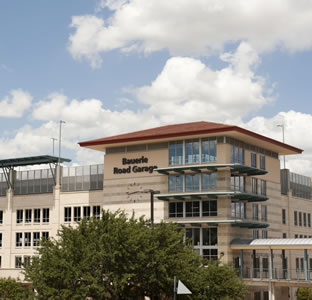 Share this Story
(Sept. 30, 2013) -- The UTSA Employee Occupational Health and Wellness Center has a new home in Bauerle Road Garage Suite 1.102, one floor above the ground floor in a space formerly occupied by the C-Store.
>> As part of the Office of Environmental Health, Safety and Risk Management team, the center staff invites the UTSA community to stop by between 8 a.m. and 5 p.m., Wednesday, Oct. 2 for healthy refreshments and to learn about services at the new office.
The center will be ready to serve faculty and staff enrolled in UTSA Occupational Health and Wellness programs. Hours are 8 a.m.-5 p.m., Monday-Friday, with staff including Rebecca Stenberg, R.N., occupational health coordinator, and Sarah Wright, office assistant II. Anna Racelis, wellness assistant, will be in the center on scheduled assessment days.
The office houses an exam room, immunization station, workspace for Occupational Health and Wellness, receptionist station, waiting area and a computerized health station and blood pressure kiosk available to all employees who wish to come by and check their vital signs.
We are very excited to have the enlarged space for use by our contract doctor and nurse to perform occupational health exams and fitness tests, and administer vaccines in a comfortable environment. Additionally, Occupational Health and Wellness Manager Kristee Phelps and Wellness Assistant Anna Racelis will use the workspace and exam room to provide health and wellness assessments.
For employees who prefer the west campus location, wellness assessments will continue at Support Facilities Building A Room 1.102, adjacent to the Sculpture and Ceramics Graduate Studio. Additionally, wellness assessments scheduled for employees at the Downtown and Hemisfair Park campuses will continue.