UTSA men's and women's basketball teams lend a hand to community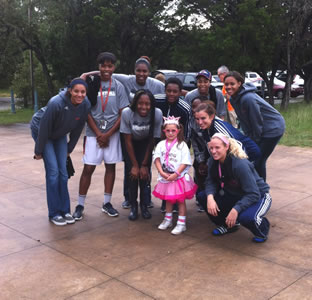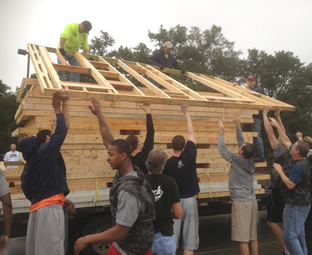 Share this Story
(Oct. 16, 2013) -- The UTSA men's and women's basketball teams took a break from preparing for their upcoming seasons to lend a hand to the San Antonio community on Sunday, Oct. 13.
The women's team spent part of their day volunteering at the Ava's Wish Foundation 5K Run "Tennies and Tiaras" at Eisenhower Park in Stone Oak. Ava's Wish Foundation raises money for children with brain trauma and injuries.
The Roadrunners assisted with operations of the 5k run and handed out medals to participants who ran the race. Additionally, they were responsible for judging the best costumes of the children participating.
"Working with Ava's Wish Foundation is an amazing experience for the women in our program," said UTSA women's basketball head coach Luby Lichonczak. "It is a wonderful cause that allows us to interact with the San Antonio community. Our team really enjoyed being able to participate in such a great event."
Money raised from the 5k run will be used to provide scholarships for special-needs children to attend adaptive classes and camps offered at Alamo Kid Sports.
Meanwhile, the men's basketball team used their day to help with a Habitat for Humanity build. The Roadrunners student-athletes, coaches and support staff joined a group of volunteers to help put together the frame of a house in the Spring Creek United Methodist Church parking lot.
"We are happy to volunteer our time and services any time we can give back to the community," said men's basketball head coach Brooks Thompson. "It was a very fulfilling experience for everyone involved, and it was great to see all the volunteers working together on this project despite the rain."