Meet a Roadrunner: Lorenzo Brancaleon expands international collaborations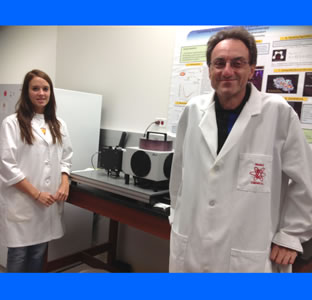 Share this Story
(Oct. 30, 2013) -- Meet Lorenzo Brancaleon. The physics associate professor and chair of the graduate program in the UTSA Department of Physics and Astronomy graduate program is fostering collaborations with researchers from the IQS School of Engineering in Barcelona, Spain.
This year, Brancaleon hosted Alicia Vall Sagarra, a 23-year-old chemist from Catalonia, Spain. She's working on a master's thesis about photosensitive dyes and proteins that could one day assist in cancer treatment therapies. Brancaleon is trying to establish the collaboration with her adviser, Santiago Nonell, a world-renowned photochemist.
Before leaving Spain, Vall Sagarra wasn't sure if she wanted to return and spend another five years pursuing a doctoral degree. But, after working in the laboratory under the mentorship of Brancaleon, she is more committed than ever.
"He made me fall in love with this by treating me like a scientist and not like a student," said Sagarra. "He showed me the importance of keeping track of all the work that I do. I feel like I have talent in this area."
Brancaleon is trying to find funding that would allow a stream of physics students to enjoy research opportunities at a university in Spain and also at UTSA.
"This collaboration could expand our research capabilities and also bring more visibility to the types of research we are doing here at UTSA," said Brancaleon.
Since joining UTSA in 2003, Brancaleon has seen physics faculty numbers triple to 16, physics majors increase to 119 and the number of physics graduate students increase to 90. The Physics graduate program is the fifth largest in Texas.
------------------------------
Do you know someone at UTSA who is achieving great things? Email us at social@utsa.edu so we might consider your submission for an upcoming installment of Meet a Roadrunner.