Sen. John Whitmire addresses criminal justice professionals at UTSA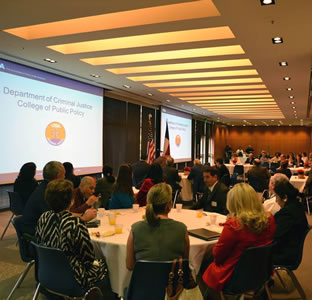 Share this Story
(Oct. 14, 2013) -- Texas state Senator John Whitmire (D-Houston), chair of the Senate Criminal Justice Committee, was the keynote speaker for the Department of Criminal Justice annual Community Breakfast Oct. 11 at the UTSA Downtown Campus. Community leaders from a variety of law enforcement agencies attended the event, where academics and practitioners discuss innovative, effective and practical reforms at the forefront of criminal justice policy.
Whitmire spoke about the changes he has seen in the justice system during his more than 30 year tenure. Additionally, he outlined the pitfalls he faced when he took the position and the progress that Texas has made over the last decade in its criminal justice and prison systems.
Whitmire outlined future goals for policy makers, academicians and those serving in the field, expressing a desire to reform the juvenile justice system and practices that address nonviolent offenders, while iterating the need to be tough but smart when it comes to crime.
Roger Enriquez, director of the college's Policy Studies Center, introduced Whitmire. "Senator Whitmire was the perfect choice for the keynote because he has been instrumental in bringing about new methods for dealing with crime and justice in Texas," Enriquez said.
"Senator Whitmire's visit highlighted UTSA's commitment to working with influential policy makers in the field of criminal justice in order to continue to develop the best practices to find innovative and practical solutions to important policy problems," said Richard Hartley, chair of the Department of Criminal Justice in the UTSA College of Public Policy. "The annual breakfast is an opportunity for community leaders to learn from faculty about ongoing projects at UTSA and for faculty to gain valuable insight into community needs and initiatives, which can lead to future collaborations."
For more information, visit the UTSA Department of Criminal Justice website.